Electronic Arts (EA) on Tuesday announced the simultaneous worldwide release of The Sims 3 for Mac and Windows. A version developed to run on the iPhone and iPod touch is also available.
The latest installment of EA's legendarily successful simulated life game franchise, The Sims 3 puts you in control of simulated people — Sims — that go about living their own lives in a virtual world inside your computer.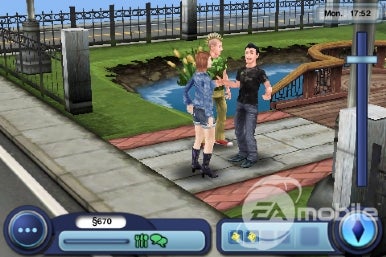 The new game features unprecedented customization capabilities — you can create a Sim that's more realistic than ever, with dozens of unique personality traits. You can also extensively customize the interior and exterior of your Sims' homes. And unlike past games, you don't have to micromanage basic aspects of your Sims' lives, like using the toilet and bathing. Plus, you can purchase additional, unique items for your Sims using an in-game store.
The Mac and Windows game also lets you record movies of your Sims, edit the soundtrack, story and transitions, then share the movies you've made with friends on The Sims 3 Web sites, social networks, and on your own blog.
The Sims 3 is being demoed in Apple Stores now. Macworld has also posted previews of the Mac and iPhone versions.
The Sims 3 is rated T for Teen. It ships on hybrid DVD-ROM, containing both Mac and Windows versions of the games, and is available this week from retailers in 60 countries worldwide. It's also available for download from Gametree Online for $50.
Mac system requirements for The Sims 3 call for an Intel-based Mac running Mac OS X 10.5.7 or later, 2GB RAM, ATI X1600, Nvidia 7300 GT or GMA X3100 or better 3D graphics, at least 6.1GB of hard disk space.The game will not run on PowerPC-based Macs or Macs equipped with Intel GMA 950 graphics.
The iPhone and iPod touch version of The Sims 3 costs $10, and is available for download from the App Store.