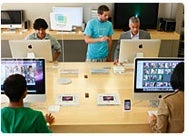 As expected, Apple rolled out changes to its One to One training program on Tuesday, including restricting sign-ups to those who have recently purchased a new Mac. Customers are eligible to sign up for the program at any time between the date of purchase and the end of the 14-day return window. A membership can be purchased at the time of checkout from Apple's retail stores or from the Apple Online Store's Configure Your Mac screen.
The changes go further than that, though, as Apple senior vice president of retail Ron Johnson alluded in an interview last week. One to One remains a $99 per year subscription, but Apple has refocused it along three primary lines: Personal Setup, Personal Training, and Personal Projects.
Personal Setup aims to help set up a customer's new Mac, allowing them to drop off their old computer, whether it be a Mac or PC, and have their files transferred to the new machine, along with the installing of any purchased software. Members are only entitled to a single Personal Setup session in a purchased subscription.
Personal Training Sessions focus on members getting help using a Mac, and offer three different ways to learn: they can take advantage of Personal Training Sessions, which offer a solid hour alone with a Trainer; they can also choose to work in One to One Workshops, which feature one Trainer and several trainees; or they can view trainings online, via the One to One Web site. Personal Training Sessions cover a variety of topics, including digital photos, digital video, the Internet, iPod and iPhone, and even the ability to design your own session.
Finally, there are Personal Projects sessions, which are free-form workshops in which subscribers can drop by during a three-hour period to get help from a Trainer on projects such as film editing, audio editing, presentations, and more. Trainers are on hand to answer questions and help out as necessary.
One to One users can manage and schedule all of their sessions from a personalized Web site, which also allows them to view projects created by other One to One users. Members can only book one Personal Training or Personal Project session at a time. While all trainings cover topics like Mac OS X and Apple consumer applications, only certain stores will feature sessions for Apple pro applications.
Only a single One to One membership is allowed per Mac purchase, and users are only allowed to renew their membership twice during that period, making three years the maximum possible subscription time.