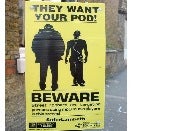 It looks like the officials of the Lambeth borough of London are fed up with the rampant "pod" theft that's been plaguing their region. Streets known to be hotspots for iPod theft have been marked with these not-so-subtle warning posts, depicting what appears to be an iPod shadow guy from the classic iPod commercials about to get mugged by his arch nemesis: big-bulky-jacket-man!
The warnings were made by Safer Lambeth, a partnership that includes the local council, police force, health agencies, and other organizations that work to keep the streets of London safe. I don't know about you, but if I saw this sign on the street I was walking down, I'd quietly tuck my iPod away and look for a more populated area. I mean, that guy is friggin' huge.
Anyway, if you notice an oversized, puffy jacket-wearing silhouette in the next iPod ad, you'll know how he got his "pod." Let's just hope that's all the guy took.
[via Macenstein]