Although I'm not a fan of RSS in OS X 10.5's Mail in general—it was number six on my list of Leopard annoyances— Mac OS X Hints reader countermind has a great suggestion on how to put it to practical use.
As something of a bargain hunter (OK, a cheapskate!), Craigslist is one of my first stops when I'm in the market for something—whether that be a used car, technology gear, toys for the kids, or sporting goods. The main downside to Craigslist is that things can get posted so rapidly, you may not see them before they're pushed off the first page of ads. Enter RSS feeds, which Craigslist makes available almost everywhere throughout the site.
I could, of course, use NetNewsWire (my RSS reader of choice) to follow the Craigslist For Sale postings. However, I have about 150 subscriptions in NetNewsWire, and the Craigslist entries would be in danger of vanishing into the morass of daily updates if I were to store them there. Enter OS X 10.5's Mail app and its RSS capabilities, where I'm now reading my Craigslist for sale postings.
There are two main advantages (to me, anyway) of using Mail for Craigslist postings. The first is that they don't get lost in all my regular RSS feeds. The second is that you can use Mail's rules to help you find the things you're interested in, and then process those matching posts in some manner.
Read more …
As an example, let's say I'm interested in finding a monitor for my Mac Pro in the San Francisco Craigslist ads. In my browser, I start by loading sfbay.craigslist.org (for a list of supported locations, check the Craigslist sites page).
From the main SF Bay Area page, I click into computers to see the current postings. At the bottom of that page is an RSS icon. (You may also see one in the browser's URL bar, but because I have NetNewsWire set up as my default RSS reader, clicking that link would subscribe to the topic in NetNewsWire, which isn't what I want to do.) Control-click on the icon at the bottom of the page and select Copy Link (or however your browser phrases it) to copy the URL to the clipboard.
Switch to Mail and click File -> Add RSS Feeds. In the new dialog that opens, check the Specify a Custom Feed URL box, then paste your copied URL into the blank box and click Add. The selected topic area (computers, in this case) then appears in the RSS section of Mail's sidebar, showing the last 100 postings. At this point, you could stop, of course—mark the existing entries as read, and new ones will show up regularly as Mail checks the RSS feed.
But why not use Mail's capabilities to make your search easier? In this example, I'm looking for a monitor, so let's use Mail's Rules to highlight possible matching posts. Start by selecting any entry in the RSS feed, and selecting View -> Message -> Raw Source. This will show you a lot of detail at the top of the message, something like this:
X-Uniform-Type-Identifier: com.apple.mail-rss-articleX-Mail-Rss-Source-Url: http://sfbay.craigslist.org/sys/index.rssX-Mail-Rss-Article-Identifier: c99e5c768d68d7ed3fdcd41c08ae39ca79a77198X-Mail-Rss-Article-Url: http://sfbay.craigslist.org/pen/sys/1201601998.htmlSubject: Dell 2001FP 21" LCD Monitor (daly city) $150X-Mail-Rss-Author: webmaster@craigslist.orgMessage-Id: <0A61609B-D634-40A7-B125-01805C94F4D6>Content-Type: multipart/alternative;	boundary=Apple-Mail-47--632535565etc...
Ugly stuff, I know. There's really only one thing you need to see there, and that's the line that begins X-Mail-Rss-Source-Url. This entry in the messages header shows where it came from, and we can use it as the basis for a Mail rule to help us find monitors for sale.
Open Mail's Preferences, click on Rules, then click Add Rule. For Description, enter whatever you like, though descriptive never hurts—Possible monitors for sale. Click the Any pop-up menu and set it to all, then click the From pop-up. Scroll down to the end of the pop-up menu and select Edit Header List. In the new window that appears, click the plus sign, and then type X-Mail-Rss-Source-Url into the box that appears and click OK. You've just added the special Craigslist header field to the list of header types you can use for rules. You should, in theory, only have to do this one time.
Now back on the rules screen, click the From pop-up again, but this time, select X-Mail-Rss-Source-Url from the list that appears. Leave the next box set to Contains, and then make sure the far right box matches what's shown in the Raw Source message you were viewing—http://sfbay.craigslist.org/sys/index.rss in this example. (Each group that you subscribe to on craigslist.org will have a different URL, so remember to change this for each group you want to follow.)
Now click the plus sign to the right of the text box you just completed to add a second condition. Set this one's From pop-up to Message Content, leave the second box on Contains, and then enter your desired search term in the text box. For this example, I entered monitor.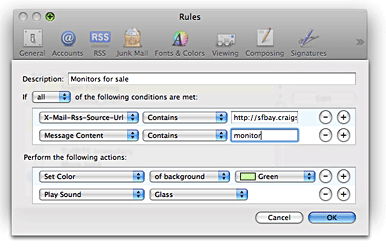 In the Perform the Following Actions section of the rule, set up whatever things you'd like to have happen. For my rule, as seen in the image at right, I colored the background of possible matches (so they're easy to see), and told Mail to play a unique sound, so I can know when new possible matches arrive. You could also, if you wish, have Mail forward any matches to your e-mail account.
With the rule set to your liking, click OK. Mail will ask you if you want to apply the rule to any selected mailboxes; if you still have the feed selected in the main Mail window, go ahead and click Apply. If not, you can click Don't Apply, then select the feed in Mail and choose Message -> Apply Rules from the menu.
You can use this technique to easily follow any for sale area on Craigslist. For instance, if I find my monitor, but then want a new graphics tablet, all I need to do is edit the condition on my existing rule. But if I'm also in the market for a sofa, I'll first need to subscribe to the 'furniture' feed on Craigslist, and then set up a new rule to check for a different X-Mail-Rss-Source-Url value.
While I'm still not enamored of RSS in Mail in general, I really like this use for it.