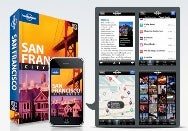 As a Bay Area native, I have a certain partiality for San Francisco that I just can't hide: the weather, the food, the culture—this city has it all. Luckily, those of you who will be in town for Apple's Worldwide Developers Conference, will have a special opportunity to tour the city via the Lonely Planet San Francisco guide for the iPhone, free of charge. The app, which normally sells for $16, is temporarily being offered for free in anticipation of the upcoming conference.
Those of you who've done some traveling probably know about the Lonely Planet travel guides. They're found in pretty much every travel section of every bookstore. Whether or not LP is your preferred travel guide may be a different story, but it's hard to argue against free.
The interface seems easy to use, with well implemented browsing between articles, resizing text, and searching. But don't just take our word for it, give it a try for yourself. Even if you aren't attending WWDC, you never know when you might be headed toward sunny California.
[via TUAW]