In what amounts to the water cooler for us remote workers, an email thread was passed around yesterday with this simple query:
I recently bought an iPhone, and am very happy with it, but… I create videos for a living, and I do wish there was a simple way to add folders to my iPhone. I already have them loaded, but I want to break them up into categories— animation samples, corporate presentations, broadcast samples, etc. It seems like there is no way to create libraries for movies, inside of iTunes. Have I overlooked something?
Person A replied:
Given I have no room on my phone for video, I don't have any idea how to answer this. Anyone know the answer?
And Person B responded:
Why not a video playlist?
And Person C (played by me) piped in:
This would be a good subject for a Playlist blog. The solution can't be as simple as a video playlist because video playlists don't work the same way on an iPhone or iPod touch as they do with traditional iPods.
And so, to make good on my threat, it's like this:
Video playlists and traditional iPods
iTunes allows you to create video playlists. These playlists can contain each variety of video acceptable to iTunes—TV shows, music videos, and movies.
When you sync one of these playlists to a clickwheel iPod capable of playing video, that playlist will appear when you navigate to Videos -> Video Playlists. Here you'll see the title of the playlist as well as the number of videos it contains—My Video Playlist, 3 Videos, for example. Select that playlist and press the Center button and the videos are listed in the resulting screen.
If you create a playlist that contains both music and videos, iTunes will allow it but issue a warning that reads:
Are you sure you want to mix music and videos in the same playlist? Most users prefer to keep them in separate playlists.
You're welcome to click OK to ignore this warning and build the playlist as you please. When you sync it to a clickwheel iPod that supports videos, two playlists with that name will appear on the iPod. The first will appear along this path: Music -> Playlists -> name of playlist. This version of the playlist will contain the music tracks in the playlist. The second version appears here: Videos -> Video Playlists -> name of playlist. This playlist contains the original playlist's videos.
Video playlists and the iPhone and iPod touch
The iPhone and iPod touch generally don't respect video playlists. Sure, they'll sync these playlists but, for the most part, they don't gang together the items in them under one playlist entry. For example, if you create a video playlist that contains four of your favorite movies, those movies will be synced to your iPhone or iPod touch, but they'll be listed separately under the Videos heading in the iPod app (iPhone) or Videos app (iPod touch).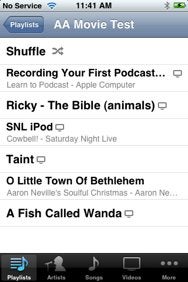 I use the weasel words "generally" and "for the most part" because you can trick the iPhone and iPod touch into placing your videos under a single heading. There are a couple of ways to do this.
One of the easiest is to create a mixed playlist that contains the videos you want and a single music track. When you do this and then sync the iPhone or iPod touch, you'll find your playlist listed as a music playlist. Within that playlist you'll see every item you added to the playlist. Tap a music track and it plays as you'd expect. Tap a video and it also plays. Unlike playing back videos via traditional means, however, these videos will play in both vertical and horizontal orientation.
You can also create a playlist with nothing but videos in it, select them all, press Command-I to produce the Multiple Item Information window, choose the Options tab, and select Music Video from the Media Kind pop-up menu. When you assign this tag to the movies, the playlist they belong to will appear as a music playlist. Again, just tap a video and it will play in both vertical and horizontal orientation.