The following article is reprinted from the Today@PC World blog at PCWorld.com.
T-Mobile is spreading word the launch of the Android G2 is "early this summer." The carrier isn't mentioning which device will actually carry the T-Mobile G2 name-tag. Speculation has the HTC Magic as the best competitor for this position.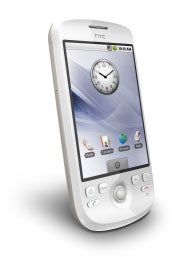 After giving T-Mobile G1 users a major software upgrade in the form of Android OS 1.5 (also known as Cupcake), T-Mobile announced it is ready to launch the successor of the G1 model early next month. Over 1 million G1s were sold so far, so the G2 is set to build on the popularity of its older sibling.
Google gave away at the I/O conference last week an HTC Magic to all audience members, which makes me think this will be the T-Mobile G2. The HTC Magic is already available in some European countries (where it is also called HTC Dream), but is yet to make it in the U.S.
My colleague Melissa J. Perenson was at the I/O conference and had a hands-on with the phone. She found a lot to like about the HTC Magic, especially its slimmer profile and smaller overall size (mainly due to the lack of a physical keyboard). You can check out her hands-on with the HTC Magic.
T-Mobile's G2 however, could face a difficult time next month when it is launched. The phone jumps in at a time when Palm, Nokia and Apple are fighting for customers in the touch screen realm. We already know the Palm Pre will launch on June 6, the Nokia N97 on June 19 and the new iPhone reportedly on July 17.
With some many red-hot phones coming out this summer, it would be safe to wait until all of them are released and then decide which one is best for you. My colleague James A. Martin has a few very interesting thoughts about that, talking about how to avoid instant buyer's remorse.
Meanwhile, for more Android goodness, make sure you check out the 11 cool Android prototypes I'd like to see, and for a head-to-head summer smartphones comparison, have a look at the latest Smartphone Smackdown.