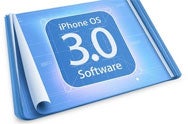 As Apple's Worldwide Developers Conference nears, speculation over what's in store for the iPhone has reached an ear-splitting, glass-shattering pitch. In the wake of Apple's departure from Macworld Expo, WWDC is the last remaining annually scheduled event for the company, so expectations are high. Will Apple have some surprises up its sleeve? Or will eager fans and watchers have to "merely" be satisfied with what Apple's already announced—particularly when it comes to the next version of the operating system for its popular iPhone?
What we know
Just for the sake of a refresher course, let's review what Apple has already publicly disclosed about the upcoming iPhone OS 3.0 update. During March's special event announcing the next version of the iPhone OS and its attendant software development kit (SDK), the company boasted of more than 1,000 new application programming interfaces (APIs) for developers as well as more than 100 new features for users.
Among the features plugged for average Joe iPhone-user are a number of much-anticipated improvements—a list topped by Apple's implementation of cut, copy, and paste, which will finally allow the ability to move text not just within applications, but also between applications.
Apple also showed off Multimedia Messaging (MMS), finally bringing to the iPhone a feature that most conventional cell phones have had for years. Thanks to a new Messages application that replaces the current Text app, no longer will iPhone users be restricted to sending and receiving messages of purely text: now those messages can contain images, voice recordings, and even location or contact information as well.
Speaking of voice recordings, Apple showed off a brand new application, Voice Memos, which allows users to quickly and easily use the iPhone's built-in microphone (or, in the case of the iPod touch, an attached microphone) to record audio as well as trim it and share it with others via e-mail or MMS.
Another marquee feature for the new version of the iPhone OS is search. Taking a page from its desktop OS, the iPhone now has a special Spotlight screen (to the left of the first Home screen) that allows for searching of contacts, applications, media in your iPod library, notes, emails, and calendar appointments. In addition, several individual applications will feature their own search capability, with Mail receiving the most robust support: it allows for searches of From, To, and Subject headers, as well as the ability to continue your search on supported IMAP servers for messages not yet downloaded to the iPhone.
While those were the biggest features touted for end users, Apple executives did mention several others, including adding the iPhone's landscape keyboard to text-heavy applications such as Mail and Notes as well as support for CalDAV and subscription-based calendars in the Calendar application. They also touched on improvements in the Stocks app, the addition of Notes sync, stereo Bluetooth support via the A2DP profile, additional languages, Auto-Fill for Safari, expanded Parental Controls, anti-phishing protection, support for YouTube accounts, and more.
And users won't be the only ones to see benefits from iPhone 3.0. If anything, third-party developers will have even more freedom at their disposal with those 1,000 new APIs. They'll be able to sell additional content for their applications from inside the programs themselves, write software that interacts with hardware connected via Bluetooth or the iPhone's dock-connector port, and take advantage of seamless peer-to-peer networking support that Apple has baked right in. Apple also is now allowing developers to embed Google Maps into their application or even use the iPhone's Core Location framework to provide turn-by-turn directions.
Apple also spent some time in March detailing its long-gestating push notifications system, first discussed at last year's WWDC. While third-party applications still can't run in the background, they will be able to receive information via a persistent network connection and then alert the user via a sound, pop-up notification, or icon badge.
Other APIs were given lip service during the presentation, such as access to the shake API, data detectors, access to the iPod library, and in-application e-mail. Apple also said that iPhone 3.0 would support tethering on the software side, but developments in that arena would require cooperation from its various carrier partners.
What we may know
For every piece of hard data we have about the next version of the iPhone OS, we have dozens of smaller unsubstantiated tidbits that are bandied about the Web in a furious ping-pong match of rumor and counter-rumor. Some of these rumors seem more likely than others, given the source of speculation and the evidence provided, while others have about as much substance as the idea that Apple will release seventy brand new devices next week.
The most popular rumors for to-be-announced functionality in the iPhone 3.0 seem to swirl around the subject of video. That's another category where the iPhone doesn't stack up well against the much cheaper competition. The iPhone may be second to none in video playback, but when it comes to recording video, users are left in the cold. Some speculation suggests that not only will the new iPhone software allow video-recording and basic editing features, but it will also integrate with both YouTube and Apple's own MobileMe service for sharing clips, as well as perhaps via the iPhone's new Messaging app.
And speaking of video, some speculators have pointed to potential evidence that Apple is preparing to allow downloads of video content such as TV shows and movies from the iTunes Store over the iPhone's wireless connection, as the company currently allows with songs and podcasts.
The final video-related rumor is the seemingly perennial speculation over video chat. Apple's iChat has long allowed this functionality on the desktop, and it's been a feature frequently shown off in Apple's promotional materials and presentations. Will Apple finally bring the same technology to the iPhone? If nothing else, it would seem to require a new iPhone with a front-facing camera, so don't expect the one without the other.
We've also heard Apple talk up push notifications as the solution for the lack of background applications, but much in the same way that it once talked about Web apps as the solution for third-party applications on the iPhone—and we all know how that turned out. Clearly notifications leaves something to be desired, so one piece of speculation suggests that Apple may allow limited background processing on the iPhone, though whether that would be handled through the App Store approval process, a specially "blessed" slot in the iPhone's application dock, or another method entirely is left as an exercise of imagination for the reader.
In addition, we've also seen rumors of a location service that will let you track down a missing iPhone, a potential framework for speech recognition and synthesis, and changes in the way that redownloading your apps will work (in order to discourage piracy).
What about when?
New features, real and rumored, are great, but the real money question is when we'll be able to get our own hands on iPhone 3.0? Apple's been pretty consistent about promising the update this summer, but that could be any time from next week's WWDC to early September. iPhone 2.0, for example, was discussed at WWDC in June 2008, but wasn't released until the middle of July.
This, week, however, Apple updated iTunes to version 8.2, with the release note indicating that the music library software now supports iPhone OS 3.0. But that could easily just be the company's way of getting one update out to hopefully prevent a crush of users trying to download new iTunes software and new iPhone software on the same day. (Or perhaps you've forgotten last year's simultaneous releases of the App Store, iPhone 2.0, the iPhone 3G, and MobileMe and the ensuing hassles.)
And, of course, there's the timing of new hardware to consider. If Apple does release a new iPhone, it will almost certainly ship that new model with iPhone 3.0 installed. That may very well dictate when Apple decides to release the software update for the rest of us. One thing we do know, however, is the price: the update will be free for iPhone users—unfortunately, for iPod touch owners, they'll have to shell out the usual $10 to reap the benefits.
What does it all mean?
The iPhone 2.0 update was all about turning the iPhone from a product into a platform. It didn't bring a lot in the way of features, but it did bring support for the App Store, and that was unquestionably one of the smartest moves Apple has ever made. The resulting enthusiasm over developing for the iPhone has made mobile computing a reality at last.
So what's left for Apple with iPhone 3.0? In many ways, iPhone 3.0 is about refining the product and filling in gaps. Features like cut-and-paste, MMS, search, and the rumored video support show Apple plugging holes in functionality in order to eliminate objections that might stand in the way of potential converts who haven't been swayed thus far.
Meanwhile, the company continues to bolster its foundations to provide solid ground for third-party developers to build upon. Hopefully when the dust settles, iPhone 3.0's legacy will be of a mature, stable, featureful software update to a device that's already become a phenomenon.