LaCie has released a pair of wireless high-definition media players aimed at allowing users to access and play content from their HD televisions.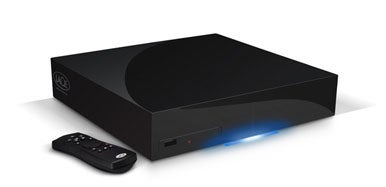 The LaCinema Black Play and LaCinema Black Record can store music, movies, and photos from any computer on the local network, whether through a direct network connection or built-in Wi-Fi. Both the Play and Record are capable of decoding 1080p-resolution movies, HD JPEG photos, and 1080i upscaling of standard definition movies. An optical audio output allows for surround sound.
The Black Record device also features digital video recorder technology for recording and replaying TV shows with the support of a set-top box or cable converter.
Designed by Neil Poulton, the Play and Record both come in 500GB and 1TB capacities. Pricing starts at $430, according to LaCie.
Updated to add: LaCie confirmed that its LaCinema Black series of devices cannot connect to a Mac via USB, as the USB connection is done via an MTP protocol not supported by the Mac OS. However, the LaCinema Black Series can copy and stream files from a Mac via the Universal Plug-and-Play protocol; LaCinema Black devices come with Twonky Media Server software to enable the function if there's no UPnP server already on the computer.—Philip Michaels
Interface changes highlight Mac Notepad 7 release
Mac Notepad reached version 7 Wednesday, adding a number of changes to Apimac's text organizer.
Mac Notepad lets you save and organize any piece of text, paste it, drag it, drop it, or write it yourself.
The new release features user interface improvements, a new mail note feature, a new categories source list and support for multiple selections of notes. The app has added new formats to export and import notes—styles include plain text, styled text, RTF, HTML, Open Office, Word, Word XML and Word 97-2004.
Mac Notepad 7.0 runs on Mac OS X 10.4 and later. A single-user license costs $25.—Peter Cohen
Projecturf online project management app debuts
Projecturf is a new Web-based project management tool aimed at software developers, helping them define and automate projects and processes and to distribute data remotely over the Web.
The service offers unlimited storage on all plans, plus a customizable design, three levels of system permissions, permission-based file sharing, milestone management, project completion reports and Gantt charts. Prices ranging from $30 to $160 depending on how many projects you need to track.—PC
Updated on June 4, 2009 to provide more details about Mac compatibility for the LaCinema Black series.