Apple has previewed the latest version of its Mac operating system, macOS Sonoma, which will make its debut later this year. It has some cool new features as well as general tweaks to macOS Ventura that it supersedes. So, how do the two compare? Here's a whistlestop tour of the current and future versions of macOS.
What's new in macOS Sonoma compared to macOS Ventura?
Obviously, these are both macOS, so the core functionality remains the same, but as with every new iteration there are features that haven't appeared before, plus the continued improvements to integrations with other Apple devices. The main tentpole additions are the ones you probably want to know about, so we cover those below.
Widgets
One of the most instantly recognisable things that will appear on the desktops of users running macOS Sonoma will no doubt be widgets. These interactive mini-apps used to live in the Notification Center, but when the update arrives you'll now be able to drag them onto your desktop for instant, easy access. You can also use iPhone apps, thanks to Continuity, with the clever feature that anything you do on the Mac version instantly syncs with the iPhone version. See: How Apple's upcoming widget revolution will change our screens forever.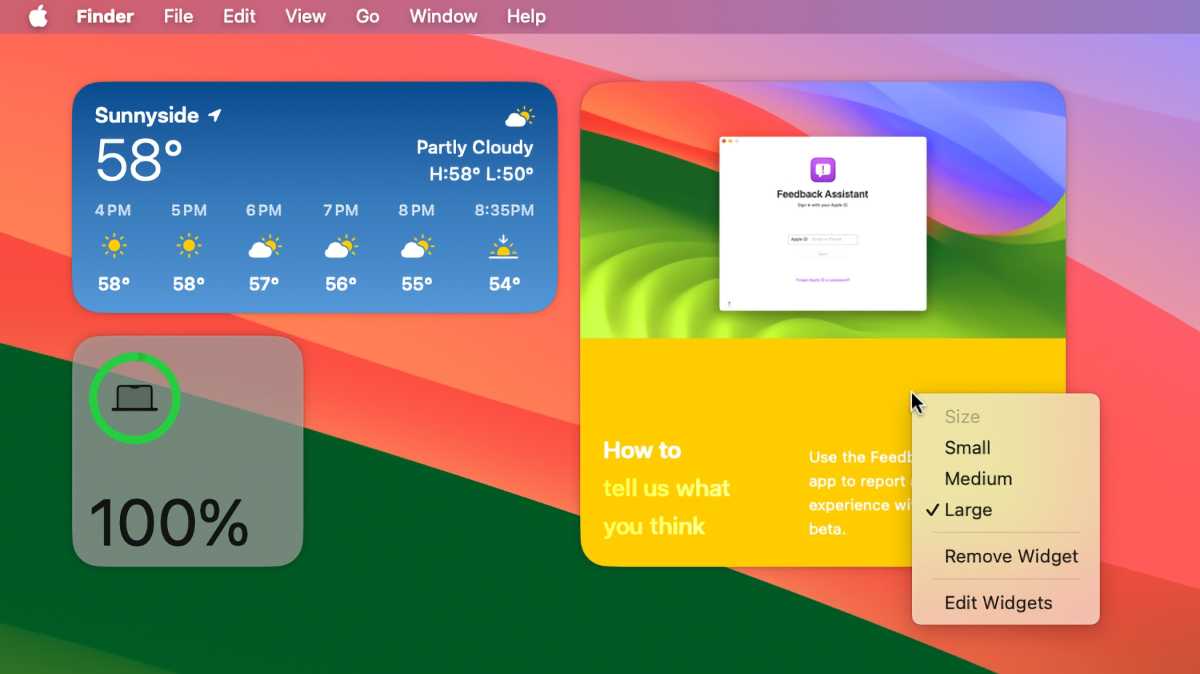 Foundry
Screensavers
With Apple placing an emphasis on customisation in macOS Sonoma, as with the widgets, it also brings new screensavers to the table. These are high definition images that acts as videos, with the camera sweeping across majestic landscapes, then slowing to a stop when you interact with the Mac, turning them into stationary images. It's a small thing, but does look lovely.
Upgraded video conferencing tools
macOS Ventura brought some interesting enhancements to video calls, including Center Stage (which uses advanced cropping techniques to ensure you're always in the middle of the screen) and Continuity Camera (use your iPhone instead of your Mac's built-in webcam). With the arrival of macOS Sonoma there are now new ways to liven up conference calls.
Zoom meetings were a necessary evil during Covid, but many of us feel some fatigue when it comes to sitting in video conferences these days. Apple is attempting to combat this though with some new tools in macOS Sonoma that can bring a bit of sparkle to presentations and general get-togethers.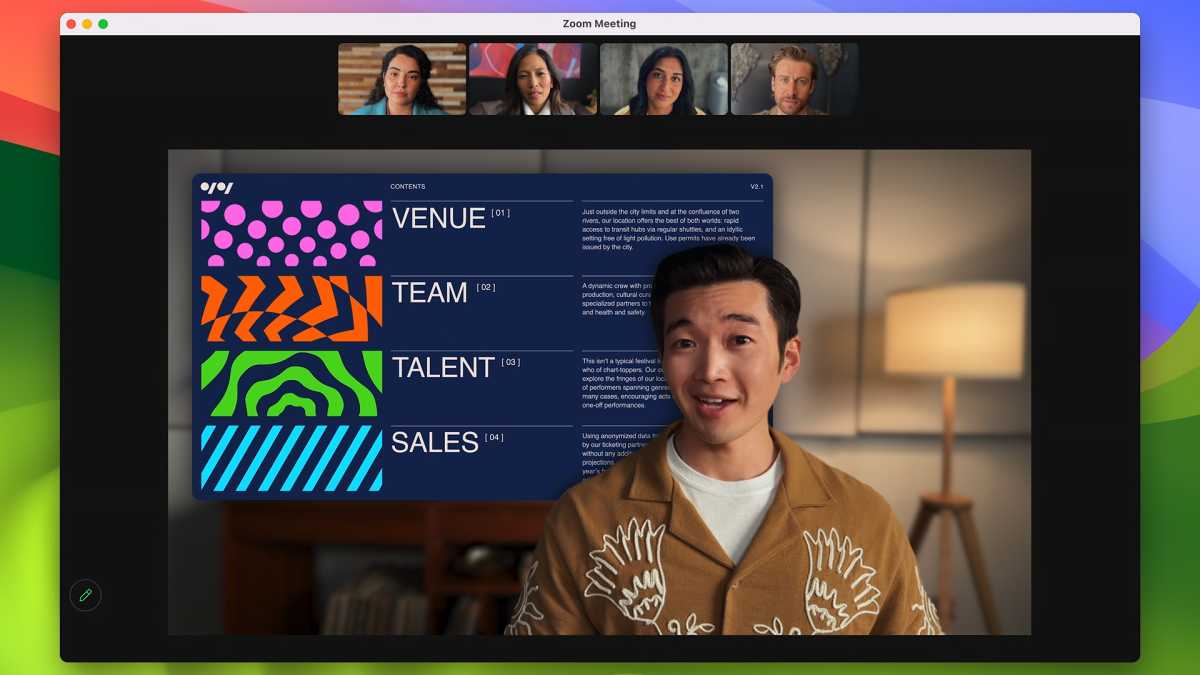 Apple
There's a Presenter Overlay option that places the presenter in the foreground, but inserts any shared screens in between them and the background. Looks professional and should liven up the quarterly financial reports. If the other callers are impressed then they can respond with animations, such as party balloons or confetti. These can even be triggered by hand gestures, which should at least keep some people awake. Finally, macOS Sonoma allows people on the call to easily share content from apps on the call.
Game Mode
An area that Macs have traditionally lagged behind their Windows-powered counterparts is gaming. Apple seems to want to close this gap by introducing a new Game Mode in macOS Sonoma that optimises the performance of Apple Silicon powered Macs so that games get the best possible performance and experience. This stretches to peripherals too, with AirPods, Xbox and PlayStation controllers all getting low-latency response times due to a doubled sample rate on their Bluetooth connections to prevent any breaking of the immersion. Read more: Apple's Game Porting Toolkit is the first real step to fixing Mac gaming.
Safari
Apple's browser already got some serious attention in macOS Ventura, with the update introducing Shared Tab Groups and several privacy focussed tools such as Passkeys.
In macOS Sonoma this is continued with extra layers of security in Private Browsing mode, including blocking tracking and profiling that webpages may attempt, as well as automatically locking private tabs when you're away from your Mac.
There's also some helpful new capabilities, with new profiles allowing you to separate out your preferred history, cookies, favourites, tab groups and other relevant information into dedicated profiles. So you could have one for work, entertainment, holiday planning or whatever ones you'd find useful.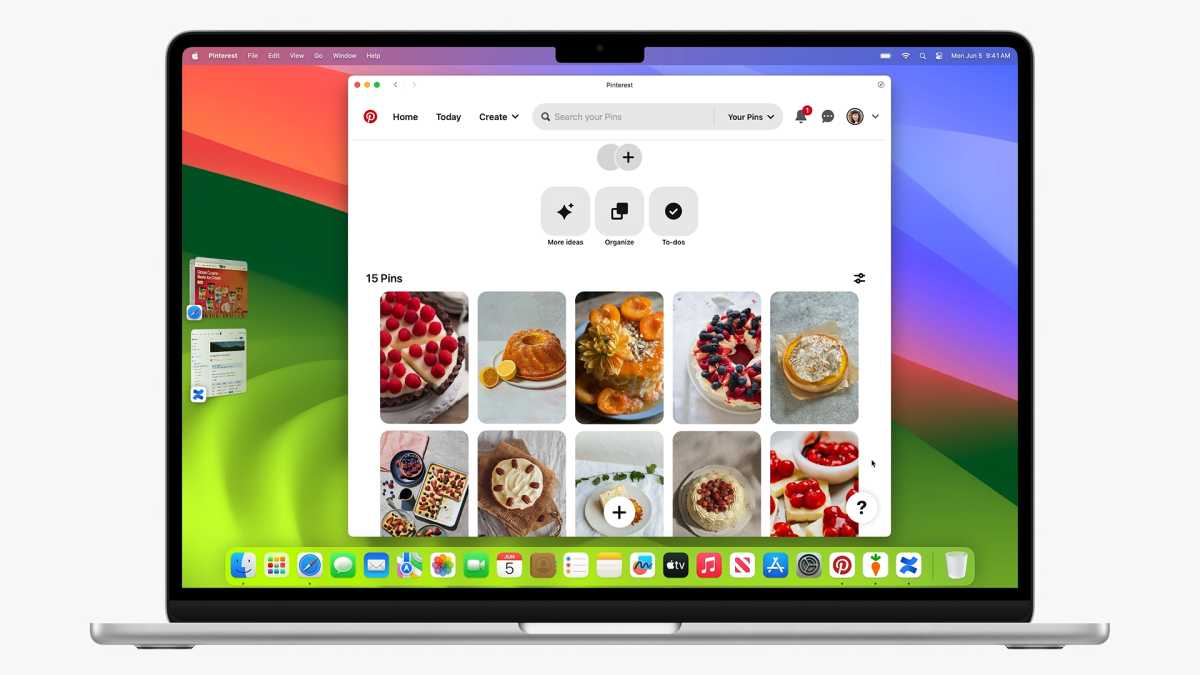 Apple
Apple also introduces the ability to turn sites into web-apps. These run as simplified windows that you can access from the dock and go straight to your favourite websites without opening up a browser window.
Accessibility
Apple has always been a leading light when it comes to accessibility in products, and this is taken to new levels in macOS Sonoma. Live Text allows non-verbal people to have their Macs speak the words they type so they can participate on calls, Made for iPhone hearing devices can now also be used on Macs, plus voice controls have been improved to aid those who have difficulty with mobility. There's plenty of other tweaks to go along with these and build on what was already in macOS Ventura. Read: How to use Live Text and Visual Look Up in macOS.
Should I upgrade to macOS Sonoma?
So long as your Mac will be compatible with macOS Sonoma, there's really no reason to stay on macOS Ventura when the upgrade arrives later this year. The customisation options can make your Mac feel more like your own, while the further integrations with iPhone, not to mention the boost to Safari and video calling, makes it a simple decision. Here's how to update once Sonoma arrives – and how to run the Sonoma beta if you can't wait for that.