You've got your own reasons for wanting to cut your energy consumption. Maybe you'd like to save a few bucks each month. Or maybe you want to help reduce the world's reliance on fossil fuels.
In either case, as you're scaling back your use of electric devices, you can monitor your savings in one of two ways: wait for the electric bill to arrive, or keep tabs on your energy use throughout the month so you'll know before the bill arrives how much electricity you used.
If you're the proactive type and choose the latter approach, you'll want to install MeterRead from zerogate on your iPhone or iPod touch. Use MeterRead to record and track meter readings. You can set up multiple meters for home, solar, or car. You can also set up separate meters to track day and night usage of the same source. MeterRead accommodates analog or digital readouts in four- or five-dial formats.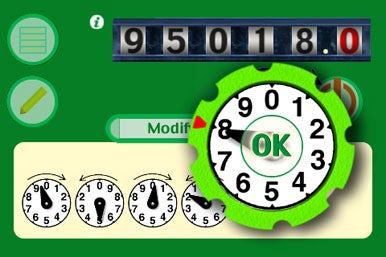 Most of MeterRead's interface is somewhat cryptic the first time you use it. It's a bit like being an American driving in Europe for the first time without having studied the traffic signs in advance. But a handy info button provides labels for the icons if you need them.
The data-entry interface mimics an actual electric meter, so recording a reading is self-explanatory. Tap the dial farthest to the right and drag to turn it until it matches the corresponding dial on your electric meter. The other dials react predictively, so if you're taking readings frequently (daily or weekly, for example), they'll adjust themselves accurately, saving you the bother of doing it yourself.
MeterRead's strength is in the calculations it provides. With each reading you record, you get up-to-date stats of your energy use, including an estimate of how many kilowatt hours you'll burn for the next 30 days. You'll know at a glance whether your energy-saving activities are on track, or if you need to turn off a few more lights. And if you're especially into savings, note that as we posted this review, MeterRead was on sale for $3; the app normally costs $5.
MeterRead is compatible with any iPhone or iPod touch running iPhone 2.2.1 software or later.
[Tony Craine is a freelance writer, playwright, and voice actor in Chicago.]