Finger Memo is a feature-packed $2 app from Aesthology for jotting quick notes or scribbling quick pictures. Some really clever niceties make the app pretty powerful, and many of those features are implemented with impressive intuitiveness. Disappointingly, though, a key oversight renders Finger Memo more of an amusement or curiosity than a truly functional productivity tool.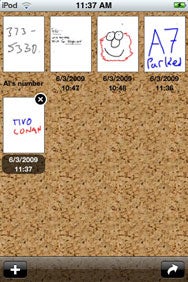 When you first launch the app, you're presented with a virtual bulletin board. As you create more of what Finger Memo calls "canvases," they'll all appear in a grid on this screen. You can create up to 120 separate canvases, and you can drag and drop to reorder them. Settings let you determine the size of canvas thumbnails, and you're able to add a text note to help you identify each canvas more easily.
The most important screen in the app, of course, is the one you use to create your memos. The "Finger" in Finger Memo refers to the implement the app expects you to use when you're writing new memos: There's no keyboard available. When it's time to make your notes, Finger Memo behaves like a basic iPhone drawing app. You can choose a black, red, or white marker, and you can select from three different marker sizes by pressing and holding on your color choice. There's also an eraser, but even better, there's unlimited undo and redo. Other options include a grid you can toggle on or off, and the ability to save your canvas to the photo album of your iPhone or iPod touch.
Finger Memo places no limit on how large your canvas can be. You can scroll around your infinitely big canvas with two fingers, or by tapping and holding for a moment before you scroll. (That's meant to avoid drawing giant lines all over your memo as you attempt to scroll.) You can also zoom in and out.
The lack of a keyboard for text entry strikes me as a huge oversight. I find it surprisingly frustrating to write legibly using my fingertips, and it requires a lot of extra time and care to produce handwriting that I'll be able to read later. To even approach legibility, I'm forced to zoom to serious depths, which then limits me to writing just a couple words at a time. Keyboard entry would be faster—and easier—to write and read. Adding the keyboard as an option would boost Finger Memo's value considerably.
Shaking the iPhone from within a canvas brings up a dialogue that lets you erase the entire canvas or zoom out. A third option (confusingly named "Email & Phone") actually does bring up the keyboard—but not to add any text to your memo. Instead, this smart option lets you type in a phone number, URL, or e-mail address you've scrawled on the canvas, and then immediately launches the appropriate app to handle that data.
Finger Memo is also available in a free lite version that removes some features (like reordering the canvas layout).
Without a keyboard, Finger Memo can't compete as a real note-taking tool. I'd rather miss out on the drawing altogether and stick with the built-in Notes app, Marker Felt and all. The drawing element is handled capably with smart controls, but the few color and size options limit the app's competitiveness as a drawing tool. It's a poor app for real notes, and a merely average app for drawing. But one keyboard option could make a big difference.
Finger Memo is compatible with any iPhone or iPod touch running the iPhone 2.2 software update.
[Lex Friedman's fingers do the talking at his blog.]