KennetNet Software has released Clarus 1.0, a pet management software app for Mac OS X. It costs £15 (US$24.11).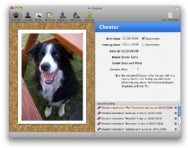 Clarus helps you keep track and maintain insurance documents, medical records, vet bills and expense receipts associated with your pet. You can even use Clarus in the event your pet goes missing, to print a missing poster that includes the pet's photo and basic details.
Important events like medication due dates, visits to the vet, birthdays and insurance renewal dates are all synced with iCal. The software can also be used with AppleScript, so you can make your pet's data available to other applications. Sample scripts are included that show you how to extract your pet's photos from iPhoto albums, for example, or use Numbers to import all pet expenses.
System requirements call for Mac OS X 10.5, 16MB hard disk space.