At a Glance
Expert's Rating
Pros
Easy to use
Highly customizable
Handles mass mailings
Imports contacts
Cons
Minor interface glitches
No extensive invoice-reporting features
Our Verdict
Operating a business efficiently requires stamina and a keen organizational sense. You're essentially herding cats while spinning plates and juggling bowling pins. Oranged Software's Studiometry 6.1.8 is an all-purpose business application that helps you track projects, invoice clients, create expense reports, and generate employee time sheets. It can't compete with an accounting program like QuickBooks Accounting 2009 ( ), but it has some exceptional features for tracking projects and creating to-do lists. It's a bit like culling the best features from QuickBooks and a good project manager into one seamless, easy-to-use app.
Studiometry has a straightforward approach to running a business—either a one-person operation or one with multiple employees. You create new clients and new projects, and then link them together—similar to how Marketcircle's Daylite ( ) manages projects and links them to customers. For example, if you run a photo studio, you might create a new client for a grocery store, and then a project for shooting in-store photographs for a brochure.
There are templates for a studio (hence the name) that does Web, print, and photo work, or you can create your own templates. In fact, one of the great strengths of this product is its rich customization. You can configure currency for invoices (choosing US dollars or British pounds, for example), create time sheets that use a billable hours format or just deduct your fee as a retainer, and generate reports and export data for just about any purpose—such as creating an Excel spreadsheet.
Organize your business
While Daylite is more of a sales lead generation program, and QuickBooks excels at invoicing and reports, Studiometry fills a void for tracking clients with project tasks: it keeps you organized. The program starts off with a wizard that helps you set up your company: you fill in details for its name, address, phone number, and Web site. An extensive Preferences screen lets you easily edit this information. Once you create a company, you then have options to add clients, vendors, projects, to-do items, and payments—all visible under the File menu.
One initial—but minor—problem I encountered was that Studiometry had trouble importing a raw text file that contained a list of clients. My file had formatting problems, even though the columns in the tab-delimited file looked like they lined up correctly during the import. Ultimately, I entered my client data manually, so it was not a major problem. Once you add client names, you can add details for each one or import this data directly from your Mail contacts. For clients, you can configure categories, such as Confirmed client or Friend, and set up a searchable color code, such as bright red for that important new client.
Studiometry has a nifty feature that lets you click an option to send an e-mail to the client or view their Web site in your default browser. There's also a way to mass-mail a company notice to all clients, and you can customize the message's header—for example, you could include the client title and full name as an intro.
Once you add client data and create your first project, you can create to-do items for that project, complete with due dates. These tasks appear automatically on the built-in calendar. Alerts appear for deadline to-do items—a helpful reminder system. Since Studiometry is a multi-user product, in which the database sits on one computer but several employees can access it, a manager can configure tasks and assign them to employees, and then run timesheet and employee task list reports. However, the program lacks enterprise features, such as remote access or tools that help your business comply with government regulations.
Interface glitches
Studiometry's interface is mostly sound, but has a few glitches. Some palettes are resizable vertically, but not horizontally—so they are sometimes bigger than they need to be. Studiometry makes extensive use of the Add and Delete (plus and minus) icons, but I'd prefer a simple Delete option under the Edit menu. You can use the Backspace key to delete, but that is not intuitive.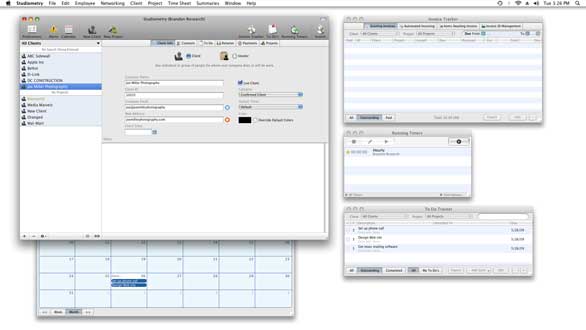 While Studiometry is useful and helpful in a variety of business environments, its invoicing and expense tracking features, while adequate, are fairly rudimentary. For example, there's no obvious button to click when you need to create an invoice—and as any business owner knows, creating an invoice should be as easy as possible. You can generate time sheet and invoice reports, but not complex profit and loss statements (with filters for quarters and fiscal year segments) as easily as you can in QuickBooks. (Oranged has a different program called Accounted that competes directly with QuickBooks.)
Macworld's buying advice
The reason Studiometry 6.1.8 is a sensible business choice is that it combines some of the low-level accounting features of QuickBooks with the contact and project management characteristics of Daylite and Microsoft Entourage ( ). It's no match for those tools at their primary function, but joining them into one program is convenient, especially for the cat-herders and jugglers out there.
[John Brandon is a 20-year veteran Mac user who used to run an all-Mac graphics department.]