Apple on Monday announced a "Developer Preview" of Mac OS X Server Snow Leopard, a new version of its server software based on the same underpinnings as its next-version Mac operating system release. Snow Leopard Server, like its client counterpart, is expected to be released in September, and comes with a $499 price tag.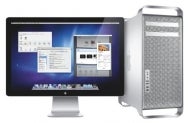 Mac OS X Server Snow Leopard runs up to twice as fast as the Leopard version of Mac OS X Server, according to Apple. It's a full 64-bit UNIX server that sports a number of new features, including Podcast Producer 2, which helps to automate the creation and publishing of podcasts in conjunction with the Podcast Composer application, and Mobile Access Server, which provides secure access to firewall-protected network services for the Mac and the iPhone.
Other new features include Wiki Server 2, an online collaboration tool that now lets you view wiki content on the iPhone and preview attachments using "Quick Look" on any up-to-date browser; a new Address Book Server based on the CardDAV open standard — a central location where users can store and access personal contact information; iCal Server 2, based on the CalDAV open standard, which provides Web-based calendar access, and the ability to view meeting invitations and details on an iPhone running iPhone OS 3.0; and a new Mail Server engine that supports push e-mail.
Also new in this release is QuickTime X HTTP Live Streaming, which can adjust movie playback quality dynamically depending on available network speed; NetRestore, a new System Image Utility feature that helps administrators restore custom system images over a network; and iPhone Configuration Utility, which simplifies enterprise setup and communication of multiple iPhones with configuration information, security policies, mail settings and certificates.