A week after releasing two high-definition media players, LaCie has launched the LaCinema Classic Bridge, promoted as an economic way to add media player functionality to existing storage devices.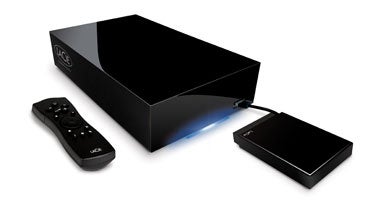 The LaCinema Classic Bridge sits between your television and existing internal and external storage solutions so users can play libraries of movies, music, and photos in 1080p HD resolution.
Users can connect an external USB drive to the front of the device for easy access to their multimedia content and insert an internal hard disk directly into the device for a fully integrated set-up. LaCinema Classic Bridge users can also choose to implement both options for expanded capacity.
LaCinema Classic Bridge is DivX-certified for playback of DivX encoded content and supports numerous video, music, and photo formats including MPEG4, MP3 and JPEG and HD-JPEG. The device comes with a remote control while content can be viewed by file category through a simple graphic selection or users may view all multimedia by clicking the folder icon.
Like LaCie's other LaCinema offerings, the compact LaCinema Classic Bridge is designed by Neil Poulton, a graduate in Industrial Design from Edinburgh University and Milan's Domus Academy, now based in Paris.
The LaCie LaCinema Classic Bridge costs $100.