Firemint has announced the release of Firemint Real Racing for the iPhone and iPod touch. It's available for $10.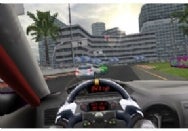 Firemint Real Racing is a detailed racing simulator for the iPhone, complete with 36 cars in three classes, 12 different tracks and five game modes. There are three racing divisions to play through — hatchbacks, sedans and muscle cars — and a career mode that features 57 events to complete.
The game sports 10 music tracks from indie artists, up to six cars on the screen at once, touch or tilt steering controls, in-car cockpit or external camera views, local multiplayer over wifi, global leaderboards, online league play, manual or automatic acceleration and breaking and video replays via YouTube.
Firemint Real Racing requires iPhone OS 2.2 or later.