Ngmoco has announced the release of Star Defense for the iPhone and iPod touch, a new strategy game that offers a fresh twist on the "tower defense" genre. IT costs $6.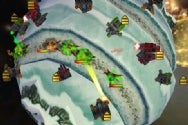 Star Defense places you in defense of human outposts across the galaxy, where you must repel incoming hordes of invaders called S'rath. You must build a mixture of towers to defend yourself from the varied S'rath troops. There are five different classes of towers with a total of 15 different weapons, each with unique attributes, firing ranges and reload frequencies.
You can battle friends in asynchronous multiplayer action over Twitter, Facebook or e-mail; defend seen different worlds each with distinct path layouts, enemy types and immunities and weapon choices; engage different levels of difficulty – easy, normal and hard; collect medal commendations; and more.
Star Defense is compatible with iPhone OS 2.2.1 or later.