Feral Interactive has announced the forthcoming release of The Movies: Superstar Edition for Mac on June 30, 2009. It will cost $50.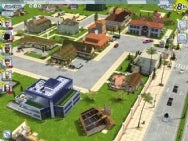 The Movies: Superstar Edition is a new version of The Movies, a game developed by Lionhead Studios, creators of Black & White and other hit games. It's a simulation game that puts you in charge of a movie studio, through the beginning of the movie era straight up to the modern day. You build your studio from the ground up, groom your stars, and even shoot movies, then live or die depending on how well they're received at the box office.
This new release bundles The Movies together with its Stunts & Effects expansion pack. More than 30 original soundtrack cuts from composer Dan Pemberton have also been added to this release — everything from silent movie piano ditties to John Williams-style soaring orchestral pieces.
System requirements call for 1.6GHz or faster PowerPC or Intel-based Mac, 512MB RAM, 64MB graphics card, DVD drive, 8GB hard disk space and Mac OS X 10.4 or later.