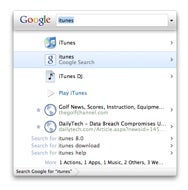 Google Quick Search Box, which we covered when it was just a developer preview six months ago, has just been officially released. Quick Search Box is the child of Quicksilver, which isn't surprising since Quicksilver creator Nicholas Jitkoff works for Google and is one of Quick Search Box's developers.
Press a configurable key combination, and the Google Quick Search Box appears. Not only does this box allow you to search Google, but it also searches your Mac and functions as an appliction launcher (just type 'iTunes' and you'll get the option to launch iTunes).
Going beyond search, Quick Search Box lets you act on the items returned in your search results. Just select the result you're interested in and press Tab (or the right arrow). A number of options appear, which vary depending on the item's type, that you can do right from Quick Search Box. You can display large text on your Mac's screen, get information about the item, and a lot more.
But we're not done yet! Quick Search Box has a plug-in system so developers can extend it. Google has created the first Quick Search Box plug-in, which allows you to—what else—post to Twitter directly from Quick Search Box. (Because the one thing Mac users lack is an easy way to post to Twitter.)
Google Quick Search Box is free, open source, and requires OS X 10.5 or higher.