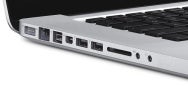 There's been some controversy over the latest 13-inch and 15-inch MacBook Pro models; specifically, the fact that the 15-inch MacBook Pro has lost its ExpressCard slot in favor of the same SD-card reader found on the new 13-inch versions.
I think having an SD-card reader will be handy, but I do understand the frustration of those who actually use ExpressCard peripherals. Both of you. (I kid!) Still, there's another reason, beyond photo-downloading convenience, to dig the SD-card slot, and it's buried in an Apple support document (scroll down to the twelfth section):
Can I install Mac OS X on an SD storage device and use it as a startup volume?
Yes. Change the default partition table to GUID using Disk Utility, and format the card to use the Mac OS Extended file format to do so.
This means that assuming you've got a card with enough capacity—say, 16GB to be safe—you'll be able to install Mac OS X and several of your favorite utilities onto an SD card and then boot from it. Can you say, "smallest emergency disk ever"?
(Tip: You can discover random bits of info like this by adding adding Apple's RSS feed for recent support articles to your favorite RSS reader.)