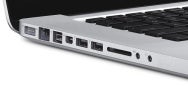 French site HardMac discovered a newly-published Apple Knowledge Base article which noted that the new MacBook Pros can boot off Secure Digital cards, as well as answering other questions regarding the just-released models' SD card slot.
Is this a further sign of Apple moving away from optical discs or is it just providing a convenient way for MacBook Pro owners to deal with situations that might require support or maintenance in the absence of an Install DVD?
The article also mentioned that the Mac will recognize an SD card as a USB storage device. You can, of course, boot Intel-based Macs via USB drives, which means this may just be a side effect of the way the hardware is treated. Given that USB thumb drives—and USB hard drives—are generally more affordable in larger capacities than SD cards, using an SD card as a startup device might be a less attractive solution, though it certainly will save you one USB port.
In the wake of the MacBook Air, leaving optical discs off of more notebooks is possibility in the future, especially now that people are getting used to regularly downloading relatively large files, such as the latest Mac OS X software update and iTunes Store movies. However, bypassing DVD for software distribution is not quite practical for the time being, at least until it becomes economically viable for both the developers and the consumers to distribute full install versions of Mac OS X or larger software such as pro applications.
Other good news on the SD front is that Apple supports the Secure Digital High Capacity (SDHC) format for cards with capacities greater than 32GB. On the other hand, the SD Input Output (SDIO) format, which is used by devices such as barcode readers, GPS cards, and Bluetooth adapters, is unfortunately not supported. Had it been, the loss of functionality from the removal of ExpressCard slot might have been slightly less pronounced.
A new SD card format was released at CES this year called SD Extended Capacity (SDXC) which uses Microsoft's exFAT file system. Apple does not support exFAT although it remains to be seen if it can recognize SDXC cards bearing FAT32 or other supported formats.
Apple also warned that the SD slot should not be used for cards that are thicker than 2.1 mm which can damage the slot, but it can accept MultiMedia Cards (MMC) because those are thin enough.