EA's $3 American Idol: The Game replicates the entire Idol experience on the iPhone masterfully. The game includes actual show footage, full-motion video characters that you interact with, real reviews by judges Randy, Paula, and Simon…the lights, the cameras, the action.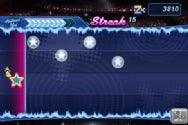 The well-integrated tutorial teaches you how to use the controls as well as how Idol actually functions. Then you sing and dance your way through week after week of stage practices, shopping and salon trips, and chance meetings with celebrities, all in the hopes of increasing your Style, Fame, and Talent. Achieving each of your goals adds to these categories and takes you farther in the game. There's even a Forum button. Check out where the world thinks you should improve.
But the real tests are the performances you give on Idol itself. Blow that, and you're voted out of the show. But don't worry, because unlike the real American Idol, you can retry the song. Most performances have both a song and dance portion, and the game utilizes the iPhone accelerometer and touch-screen for control. You can also calibrate the accelerometer, something you'll need for some songs.
Try out Quick-Play to practice songs you've unlocked. Then you can focus on increasing your style and fame walking the Sunset Strip.