Linkinus is an IRC (Internet Relay Chat) client that brings 21st century style to what some consider to be an aging way of chatting online. Version 1.0 brought unique features like a group chat view and in-line media embedding. The version 2.0 upgrade brings more than 100 new features.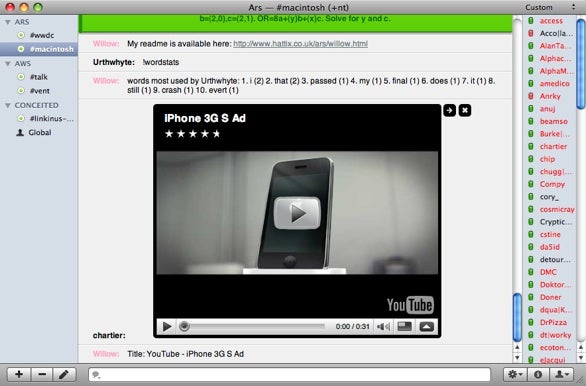 Leading the list of Linkinus 2.0 features are a dedicated log viewer, in-line media embedding for all styles (which you can turn off), a new identity system for managing nicknames and authentication, customizable Groups for viewing more than one channel at a time, and a much more flexible UI. Both the server and user sidebars can be hidden, while more options allow for toggling things like new message counts or whether you see embedded media from specific users.
Speaking of media, the embedding feature supports far more services now, including Hulu, Amazon, IMDB, and direct file links like M4A and MP3 files. Previewing shortened URLs from services like TinyURL and tr.im is also supported; simply hover your mouse over such a URL to see its actual address.
Linkinus' plug-in architecture has also been updated to give plug-in developers more control over both incoming and outgoing messages. Also, a new Highlights and Stars window allows users to check back on highlighted terms or any message they marked with the new star system. This means you can scroll back in the relevant channel, or call up the new log viewer to dig deeper.
In addition to a much better experience for users who are new to Linkinus or IRC, there are many, many more new features in Linkinus 2.0, all which provide a welcome refresh to the IRC medium. The new version requires Mac OS X 10.5 Leopard, with a 15-day trial is available. Licenses cost $20, and upgrades from 1.x licenses are just $10. Discounts for students and multi-user purchases are available.