The social online game Foursqaure encourages you to explore your city, connect with other Foursquare friends, and compete for "badges" while doing so. Naveenium's free Foursquare app for the iPhone and iPod touch gives you access to all of the key features you need to check-in and compete wherever you are in your city.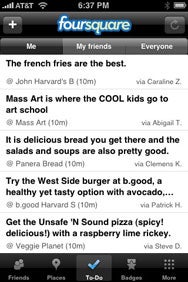 Foursquare has a few basic ways to explore and compete—all clearly presented in the app. Like any good social network, you have a Friends list, where you can keep tabs on where your friends are and what they've "shouted." (Think especially short Twitter updates: "Having lunch at pub!") This is helpful if you've got a lot of friends that play locally—in one quick look, you can see what bar or restaurant people you know may be meeting at.
There are also Places and To Do categories, both of which take advantage of the iPhone's location services to pinpoint where you are, and what there is to do around you. These listings may be in the form of recommendations from other Foursquare users, or To Do items that you have entered on your own.
The social element comes into play with each item that is presented. If you were to create your own item—"Eat a carnitas burrito at Anna's on Harvard St."—this item would show up on your To Do list, as well as the showing up as a local Tip for nearby users in that area. Each time you complete one of your own To Do tasks, or a Tip from another user, you can check off that you have completed the action. You can also view Tips from others and add them to your To Do list for later. The more items you check off and complete, the more points you receive.
Badges are then rewarded for points received in various categories. Some may be for being an "Explorer" and checking out a wide variety of places; others may be for consistently returning to one spot (your favorite local coffee shop, for example).
I tested out Foursquare for a few weeks and had a lot of fun with it. There are some drawbacks, however. As of this writing, there are only 20 cities in the U.S. where the game is being played, though more are being added. Also, it seems like Foursquare would be significantly more fun if you had a large group of friends that were playing, so as to really pull out all of the social interaction capabilities. Neither of these complaints relate directly to the app itself, which I found to be very nicely designed and easy to use. Still, it's something to keep in mind for people trying to play.
Time will tell if Foursquare really takes off and becomes a big social networking phenomenon. It certainly has all the elements in place—it's already a lot of fun and seems to be getting more and more attention all the time. If you already play, or if you're interested in checking it out, the free Foursquare app is a really nice entry into the game.
Foursquare is compatible with any iPhone or iPod touch running the iPhone 2.2 software update.
[ Beau Colburn lives in Boston, and encourages you to connect with him on Foursquare if you're interested.]