No matter how much we rely on text messages, e-mail and Twitter updates these days, sometimes it's still nice to get something in the mail from a friend or relative. PicCard by Pindropper.com is an iPhone app that allows you to take a photo with your iPhone camera—or grab an image from your mobile device's photo library—and make a physical postcard out of it that gets sent through the mail. (Two other apps we've reviewed, Postino and Hazelmail, do much the same thing.)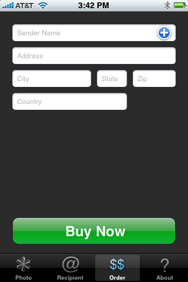 The interface, and overall concept, is dead simple. You select a photo from your Photo Library, and enter the recipient's name and address. You then add a basic message, which gets printed on the back, just like a traditional postcard. You'll need a PayPal account to cover the cost of postage—it's $1 in the U.S. and $1.50 to send your postcard internationally. (Note that PicCard's App Store page calls the $1 fee an "intro price for prints shipped within the U.S., as of this writing.)
The overall look and feel of the app could use a little fine tuning, and the PayPal integration is a bit clunky. But since I have been using it, Pindropper has pushed out a a few updates that have improved the overall use. I really like the concept, and it's a neat way to blend older, traditional correspondence with the iPhone.
PicCard is compatible with any iPhone or iPod touch running the iPhone 2.x software update.
[Beau Colburn lives in Boston where he still likes getting things other than junk mail from the mailman.]
Note: When you purchase something after clicking links in our articles, we may earn a small commission. Read our affiliate link policy for more details.