At a Glance
Expert's Rating
Pros
Lots of connected services
Purchase price includes two years of service
Cons
POI and Google Search could be better integrated
Pop-up ads on POI searches can be annoying
Our Verdict
Garmin's nüvi 1690 is a GPS device with a built-in cellular radio for real-time services such as traffic, weather, and Google Live Search. Overall the nüvi 1690 is an impressive device.
The nüvi 1690 has a 4.3-inch screen, text-to-speech conversion (which enables the device to announce street names), Bluetooth phone connectivity, and lane assist with junction view (so you can see simulated highway signs).The nüvi 1690 also has multisegment routing with route optimization.
The nüvi 1690 generated good routes with no surprises, and its text-to-speech feature worked as expected. Lane assist with junction view provided a clear visual for my interstate highway exit tests. The Bluetooth phone interface paired easily with my LG LX9900 phone and worked well as a speakerphone. Garmin says the nüvi 1690 is compatible with the iPhone for hands free calling, point of interest dialing, and display caller ID. I was disappointed that the Bluetooth interface couldn't read the contacts and call history from my phone. I had expected the better Bluetooth interface on the premium-priced nüvi 1690.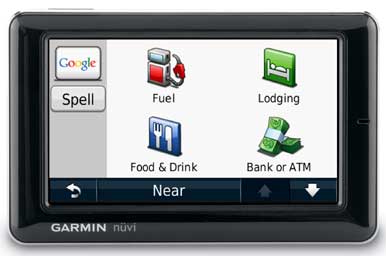 Most of the nüvi 1690's services are, for the most part, logically located in the appropriate menus. For example, the connected services in the tools menu are Flight Status, Weather, Ciao, and Currency. Under flight status, you can check flight numbers and search arrivals or departures. Checking weather gives you the current day's forecast for your current location along with a five-day forecast. The device also provides current conditions for New York City, Chicago, and Los Angeles; but you can't specify other locations. Ciao aggregates multiple location-centric social networks such as GyPSii and Buddy Beacon. Finally, the currency exchange function updates exchange rates daily, so you'll always have the latest information.
Garmin lists NuLink's other connected services under the familiar Where To menu. The first screen offers Google Local search as one option and White pages as another. With White pages you can look up a phone number by name and location or you can enter a phone number, and the nüvi 1690 will do a reverse lookup—a very convenient feature. From the results screen, you can start navigation or (if you have paired the device with a Bluetooth-capable phone) call the number.
Google Local provides online access to same 13 POI categories covered by the Points of Interest icon. You can use Google Local to search nearby, in a different city, in a recent destination, in a favorite destination, or (if you have an active route) along your current route; those are the same options you have when using the POI database. This is one place where the connected services could be better integrated: Why not combine the searches? When I'm looking for a POI, I don't care whether it comes out of the internal POI database or from the Google Live connection.
The Where To menu lists such other NuLink services as fuel prices, movie times, and local events. You can search for nearby fuel prices for unleaded, midgrade, premium, or diesel. The prices seemed accurate in my sampling, but you can't search for the cheapest fuel price other than by scrolling through the list.
The movie times option is supposed to let you search by movie title or theater name for a specific date not more than five days in the future. (The movie search is only for nearby theaters.) In my tests, however, each time I tried to look up theaters or movie titles over a four-day period, the nüvi 1690 issued an error message saying that the server was busy or that I wasn't connected. (I was connected.) I advised Garmin of the glitch, and a fix is in the works
NuLink is the data conduit for live traffic. It alerted me to nearby traffic delays and showed the expected rush-hour delays into Manhattan. As you would with the Navteq live traffic on other nüvi T models, you'll occasionally see pop-up advertisements for nearby POIs.
The nüvi 1690 includes two years of the NuLink services, Thereafter, service costs $5 a month.
Macworld's buying advice
If you're a fan of the Garmin navigation experience, the added NuLink connected services will only enhance the experience. The nüvi 1690 represents a very good effort from Garmin.