Western Digital (WD) has announced new SiliconDrive III Solid State Disk (SSD) drives. It's the first SSD product announcement from WD, which in March, 2009 acquired SiliconSystems. Prices were not announced — WD is focusing SSD sales to original equipment manufacturers (OEMs).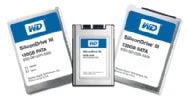 The new SiliconDrive III SSD systems come in 2.5-inch Serial ATA (SATA) and Parallel ATA (PATA) as well as 1.8-inch Micro SATA form factors. Capacities range from 30GB to 120GB depending on size. The SATA drives are equipped with 3GB/s interfaces, while the PATA drive has an ATA-7 interface.
WD touts several technologies on-board the SiliconDrive III SSDs, including "PowerArmor," which helps protect the drive against storage system field failures caused by brownouts, power spikes or unstable voltage; "SiSMART," an early-warning system that detects system usage and forecasts useable life; and "SolidStor," a combination of technologies WD has developed for OEMs.
SSD drives are gaining momentum as alternatives to conventional hard disk drives — they are being offered for the same application in laptops and other portable devices. SSD manufacturers claim that they offer better endurance than a hard disk drive, which can malfunction if dropped or mistreated, as its components are spinning. They also consume less power. Apple offers an SSD option for the MacBook Air.