When Apple first announced the iPhone back in 2007, the company said that it planned to continually update the phone with new features and functionality. In July 2008, Apple released iPhone 2.0 ( ), which opened up a whole new world of third-party applications, finally converting the iPhone from the latest hot gizmo to a viable platform. With predecessors like that, 2009's iPhone 3.0 has some Wilt Chamberlain-size shoes to fill.
Whereas iPhone 2.0 focused on expanding the platform outwards, iPhone 3.0 is about looking inward, polishing features that already existed and adding those that were notably lacking. And while it may not be the flashiest of updates, the new version brings several welcome enhancements and refinements to the iconic device.
Cut once, paste as many times as you want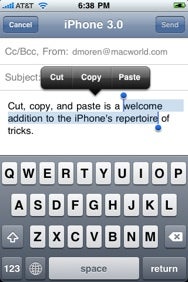 It's telling that the most anticipated new feature of iPhone 3.0 is one that goes back to the earliest days of the graphical user interface. Apple says that it had to take its time and make sure that it got cut, copy, and paste right, and it seems to have done just that. While cut, copy, and paste aren't available in every application, Apple has implemented it at a low-lying level, so it's available pretty much anywhere you deal with text.
There are a couple of ways to use copy and paste. Double-tapping a word will automatically select that word, highlighting it in blue and popping up a floating menu of options. What you're offered depends on whether the text is read-only—if so, you'll only be able to copy. If you're composing text, on the other hand, you can cut, copy, or paste. Alternatively, if you tap and hold a word to bring up the loupe and then release it, you'll also be provided with select and select-all options.
Once you've selected text, you have the option to alter your selection by dragging handles on either end of the selection (or, in some apps, such as Safari, you'll get a block with handles on all four sides). Dragging the handles brings up a magnified view that's similar to the loupe, but rectangular. The selection algorithm is smart, too: if you tap and flick one of the handles, it automatically detects spaces and makes sure that it never cuts off in the middle of a word; should you want to select just part of a word, though, you can tap and drag the handles with more precision.
Read more…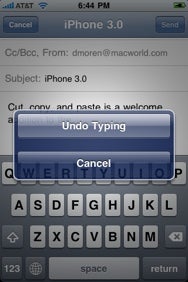 If at any point you make a mistake—say, pasting some text you didn't mean to—it's easy enough to fix. Just give the iPhone a quick shake, and it brings up a dialog box with an Undo button. There are multiple levels of undo, in case you need to correct several mistakes, and you can redo actions as well, just in case you think the better of it.
Cut, copy, and paste handles plain text, rich text (including styling and hyperlinks), and images, which you can copy from the Photos app, Mail, or Safari. While these functions work pretty well, there are some issues: for example, I copied some text and images from a Web page that was too wide for the Mail message I was pasting into, and I was unable to zoom in and out or pan around to see all the content.
Apple has said that third-party developers will be able to extend the pasteboard to accept more types of content, but most applications should be able to take advantage of at least basic text cut, copy, and paste out of the box.
Reading, writing, and right-to-left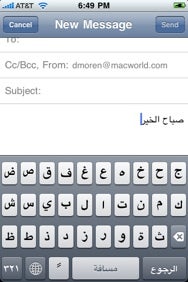 iPhone 2.0 added support for a number of different languages and input methods; iPhone 3.0 continues that trend, boosting the number to 30 different languages and more than 40 input methods, including long-awaited support for right-to-left languages like Hebrew and Arabic. Apple has also added a handful of new special characters that you can access by tapping and holding on certain keys, such as the em-dash (the hyphen key), ellipsis (period), degree symbol (the zero key), and more.
Even better, every input method features both portrait and landscape versions of the keyboard. That landscape keyboard is also a feature in and of itself. Previously restricted to use in Safari, the landscape keyboard is now available in all text-heavy applications such as Mail, Notes, and Messages, which should help assuage the many users who prefer its wider-spaced keys.
Unfortunately, the landscape orientation can sometimes be more annoying than helpful if you end up switching the orientation when you don't mean to. It would be nice if Apple offered some way to lock the current orientation to prevent this.
Search party
Apple substantially beefed up the iPhone's search capability in 3.0. Those improvements manifest in two ways. One is in individual applications like Mail, Calendar, and Notes, where you can now summon a search field by scrolling the screen downward (as you could previously in Contacts). Typing in a search term instantly shows you the items that match your results.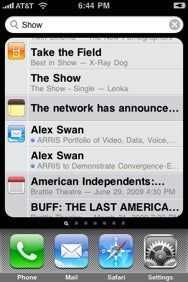 In addition, you can now search throughout the phone with the new Spotlight feature, which is accessible by swiping right from the first Home screen or by pressing the Home button when on the first Home screen. Results are returned from the phone's built-in apps, like Calendar, Mail, iPod, Contacts, and more—you can set which types of data are searched and what order the results appear in by going to Settings -> General -> Home -> Search Results. Tapping on any of the results will open the corresponding record in that application, whether it be a Mail message, Calendar appointment, music file, contact, and so on.
But as nice as search is, its implementation is half-hearted at best. While Mail, for example, can search the To, From, or Subject headers (or all three at once) and even extend the search to messages that aren't downloaded to the phone yet, but it can't search the body of messages. There's no still no way to search for text on a Web page or in Mail attachments, and Contacts searches are limited to the first name, last name, nickname, and company fields. It's unknown whether or not third-party developers will be able to make their apps' information searchable by Spotlight as well.
Spotlight also returns the names of applications as results, which may help those with dozens of apps, but that just highlights the need for a better way to organize most peoples' growing number of Home screen icons—the only other concession in that realm is that you can now have 11 screens of apps instead of nine.
Look ma—no wires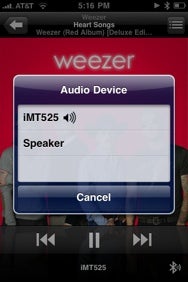 One of the new audio-related features of the 3.0 update is support for Bluetooth's Advanced Audio Distribution Profile (A2DP). This lets you stream stereo audio over Bluetooth to other devices, such as wireless headphones, a speaker system, or a car stereo. Pairing an iPhone 3G with an A2DP speaker system and a set of A2DP headphones is simple, and the devices stay paired even when the phone goes in and out of range. However, you have to control volume on the audio device; the iPhone's volume buttons are disabled when streaming audio over Bluetooth.
When a phone call comes in, A2DP streaming works just like the iPhone's headphones or built-in speakers: If media is playing, the media audio fades out and the media pauses so you can take the call. After hanging up, playback resumes.
However, there are some issues. For example, to switch audio output to and from the Bluetooth accessory, you have to use the iPod app, even if you're not playing music, and if you turn off the stereo Bluetooth accessory before switching the audio output back to the iPhone itself, sometimes you can't restore audio on the phone. Also, Wi-Fi signal strength sometimes drops while streaming audio over Bluetooth on an iPhone 3G.
Unfortunately, the iPhone 3.0 software doesn't provide support for Bluetooth's Audio/Video Remote Control Profile (AVRCP), which allows a Bluetooth accessory to control media playback. This means that if you connect Bluetooth wireless headphones that include playback buttons, only the Play/Pause button will work; you won't be able to skip or scan tracks or otherwise browse media content.
Hide and seek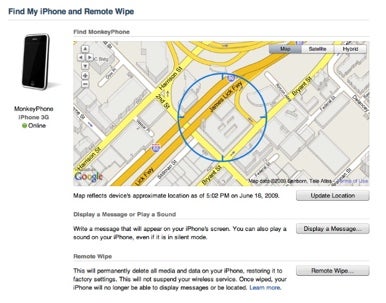 iPhone 3.0 may actually help prevent that heart-stopping moment when you pat your pockets and realize you've misplaced your phone. The new Find My iPhone feature—available only to subscribers of Apple's $99-per-year MobileMe service—allows you to log in to your MobileMe account from a Web browser and view your phone's current location on a Google Map.
In order to enable the feature, you'll need to go to the MobileMe account preferences under Settings -> Mail, Contacts, Calendars, and switch on "Find My iPhone." The Location Services slider under Settings -> General will also need to be on, and the phone will have to have some sort of Internet connection as well as being powered on. You can send a customizable message to the phone instantaneously, alerting potential good Samaritans of the device's provenance. If you've just lost the phone around the house, you can also make it continuously play back a sound for two minutes to help track it down.
And should the worst happen, you can remotely instruct the phone to wipe its contents: that will clear out all data, including contacts, media, and accounts. If you retrieve the phone at a later date, you can always sync it back to your computer.
Shake, rattle, and scrub
The iPod functionality of the iPhone hasn't changed much in version 3.0. In addition to the new search functionality, Apple has added the "Shake to Shuffle" feature found in its fourth-generation iPod nano. Nifty though it is, it may be a little too sensitive: one Macworld contributor said that he noticed the feature leaping into action on an especially turbulent plane ride, and I ran into the same problem while jogging across a street. Fortunately, Shake to Shuffle can quite easily be deactivated under Settings -> iPod.
Podcast fans will see a few nice improvements. Video podcasts can now be played in portrait or landscape modes, and the podcast player now features buttons that let you jump back exactly 30 seconds and adjust the playback speed to either double- or half-speed. Those new controls take the place of the shuffle and repeat controls for podcast playback (those features are still available in music playback).
There's also a new handy variable-precision scrubbing feature that works for pretty much any type of media in the iPod library. Just tap and hold the scrub bar and drag your finger up or down the screen to adjust the precision. The farther down you drag your finger, the more precise the scrubbing gets, starting at Hi-Speed (sic), followed by Half Speed, Quarter Speed, and Fine. The more precise the scrubbing gets, the slower you scrub through the track, making it easier to jump back a second or two if you missed what was said.
Shop 'til your connection drops
The iTunes Store application has received some updates as well, chief among them the ability to download videos, both for purchase and for rental, over the network. Since it's subject to the same 10MB limit on the cell network that music and podcasts are, you'll pretty much always be restricted to using the Wi-Fi network. And downloading isn't especially speedy over Wi-Fi either: in one of my tests, it took several hours to download a two-hour movie. In another test, it took less than 40 minutes, so your mileage may well vary. Either way, it's not quite to the point where you can download a movie while waiting for your plane, but that time is getting nearer.
While you can't download HD movies directly onto your iPhone—which would be kind of pointless given the iPhone's small display—you can purchase HD movies by scrolling to the bottom of the details screen for any movie that offers the option. The iPhone will start downloading the standard definition file, and the HD version will start downloading to your computer the next time you sync your iPhone.
The iTunes application now also lets you post comments to the Store, which is aided by support for multiple accounts in iTunes. Previously, your account was usually dictated by the iTunes account on the last computer you'd synced with. Now you can sign in, sign out, and view your account details by visiting Settings -> Store and you can also create an iTunes account if you like.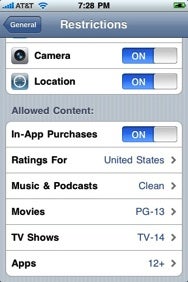 Apple has also integrated more fine-grained parental restrictions in iPhone 3.0, which are accessible at Settings -> General -> Restrictions. In addition to a new restriction for disabling the phone's location features, a new section provides the ability to independently filter different kinds of content, such as music and podcasts, TV shows, videos, and iPhone apps. You can prevent children from downloading content at certain rating levels or higher (such as PG-13 or greater movies) or, in the case of music and podcasts, you can ban explicit material. Users can choose a rating system from one of nine different countries, including the U.S., U.K., and Japan.
Apple is now requiring iPhone apps to feature age ratings similar to those it has long enforced for iPod and iPhone games. Parental restrictions allow you to disable iPhone 3.0's In-App Purchase feature, preventing kids from downloading additional content through installed applications.
Push up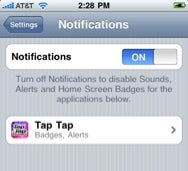 Apple's push notifications system was supposed to debut last September, but it's finally arrived in iPhone 3.0. The usefulness of the system—and its ability to hold up under the sudden barrage of millions of phones running thousands of applications—remains to be seen until apps that support it are released.
However, people who fear that their phone may soon be deluged by notifications can rest easy. The iPhone's new Settings -> Notifications panel (which only appears once you run an app that includes notification features) allows you to disable notifications either en masse or by type of notification within an individual application; for example, you could disable the pop-up alerts for an application while leaving the badge alerts. There is, however, no easy way to turn off just one type of notification, such as alert sounds, for all apps.
Now hear this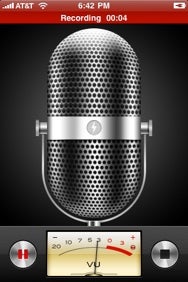 One new application joins Apple's default set in 3.0: Voice Memos. It's a relatively straightforward program that does just what it says on the tin: you can record using the iPhone's built-in microphone or the mic on the iPhone's headphones. Voice Memos can even record in the background; a red bar appears at the top of the screen letting you know that you're still recording, and showing the elapsed time. You cannot, however, record phone calls—launching the Phone application ends your recording.
Once you've recorded a clip, you can use Voice Memos to play it back and label it, either with one of the handful of built-in labels (Interview, Class, etc.) or by adding your own. You can also trim a clip from inside the application, dragging endpoints on a timeline to select just the section you want (careful, though—there's no undo); you can then share it via e-mail or (someday) MMS. Voice memos also sync back to iTunes under a Voice Memos playlist, though you can prevent them from syncing by unchecking the option in the Music sync pane of iTunes when the iPhone is connected to your computer. Voice memos are stored as 16-bit mono Apple Lossless files.
Save the date
While the Calendar application doesn't look very different under iPhone 3.0—excluding the addition of a new search bar—a few hunder-the-hood changes give you more flexibility as to which calendars you can use. Apple in particular touts two new features: the ability to add subscription calendars and support for CalDAV servers.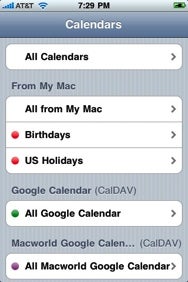 If you're not looking closely, though, you might be hard-pressed to figure out how to use these features. They're hidden under Settings -> Mail, Contacts, Calendars; tap Add Account and then choose Other: you'll be prompted with options for adding either a CalDAV Account or a Subscribed Calendar (this is also where Apple has hidden 3.0's LDAP support for contacts).
Adding a CalDAV account requires that you know your server, user name, and password; adding a Subscribed Calendar requires that you know the URL for the calendar (that's one place that 3.0's new copy and paste features really help). Once you've entered the appropriate information, the calendar in question will download its events. If you've got multiple calendars on a CalDAV account, such as Google Calendar, you'll have to add a separate "account" for each of them.
Support for these online calendars is great, but there are some problems: for one thing, I noticed that all the additional information can lead to somewhat sluggish performance in the Calendar application. In addition, meeting invitations are still only supported for Exchange users. Those using MobileMe subscriptions still can't sync with certain calendars on your Mac, such as Address Book's automatically generated Birthday calendar; however, there is now an alternative for dealing with that limitation (see "Kitchen Sync" below).
Kitchen sync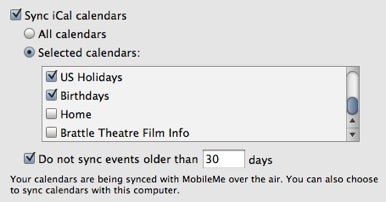 In iPhone 2.0, Apple introduced the ability to sync your iPhone over the air, assuming you're using a MobileMe account. Unfortunately, doing so meant that you could no longer sync data from your computer—it was an either/or proposition. With iPhone 3.0 and iTunes 8.2, however, that's no longer the case: you can now mix and match data over the air and via iTunes, which is great for those calendar subscriptions that you can't get via MobileMe, such as the Birthdays calendar. You'll still need to sync with iTunes if those calendars change, though.
iPhone 3.0 also finally brings the much-demanded Notes syncing, letting you exchange those little yellow-ruled tidbits between the iPhone's Notes app and Mail. That's right: notes go into Mail on the Mac. This didn't work great in my tests, due mainly to some weirdness in the way that Mail was set up on my computer, but my colleagues reported it working fine in other cases.
Coming soon
Back in March, when Apple first announced iPhone 3.0, it mentioned two high-profile features that would be supported by the software update. The first was support for the Multimedia Messaging Service (MMS), allowing users to send and receive text messages that also contain pictures, location information, contact information, voice recordings, and video messages. But though the software functionality is included within iPhone 3.0, AT&T has said it doesn't plan to roll out support until later this summer.
Support for tethering—using your phone's cellular connection to share Internet access with your desktop computer—is even murkier. Again, the capability is supported in iPhone 3.0, but AT&T's public statement on the matter said only that the company would offer the feature at some point, and it didn't specify a timeline or pricing information.
In addition, there are a ton of new under-the-hood features supported by the iPhone 3.0 update that we won't really get to see until developers start to build them into their applications, such as seamless peer-to-peer networking, support for hardware accessories, embedded Google Maps, and turn-by-turn directions.
Don't bug me
The S in the new iPhone 3G S stands for Speed, but you'll notice there's no S in iPhone 3.0. Sure, sometimes the device will zip along its merry way, but other times it will slow to a crawl. I found myself more surprised when the pop-up keys on the keyboard actually did keep pace with what I was typing. Even the iPhone's limited multitasking is starting to wear thin, as I and some of my colleagues occasionally encountered stuttering music while trying to perform other tasks, like finding directions in Maps or simply entering text in another app. And you may notice a couple of other small bugs here and there, though many of them are purely cosmetic.
Of course, any major update has its fair share of bugs, and it's likely Apple will iron out many of these in subsequent releases. Apple didn't really deliver on the promise of iPhone 2.0, for example, until iPhone 2.1 finally made the update usable roughly two months later. For those who consider performance paramount, waiting for a 3.1 update might be reasonable, if you can continue to do without 3.0's features for the time being.
Macworld's buying advice
For most iPhone users, iPhone 3.0 is a no-brainer update. The addition of cut, copy, and paste alone makes this a must-have update; and as exhaustive as we've tried to make this review, there are plenty of other small tweaks and enhancements not covered here. On the downside, original iPhone users won't be able to reap all of the benefits of the update, since their devices won't support MMS or stereo Bluetooth.
iPod touch users, on the other hand, will have to lay out $10 before they can get 3.0, and they won't be able to use all of the features either, although Apple did confirm that the second-generation iPod touch includes Bluetooth support. Version 3.0 is a more expensive proposition; but again, for $10 you get a whole host of new features, as well as—perhaps more importantly—all those technologies that developers will soon be using in their applications. In the end, $10 seems like a small price to pay for the number of new features included.
Overall, iPhone 3.0 offers useful new features and refinements of existing features. It doesn't necessarily tick every checkbox on our iPhone feature wishlist, but it's a solid step in the right direction. And, after all, Apple has to leave something for iPhone 4.0.
Updated 4:44PM PT to clarify details about contact search fields and CalDAV accounts.
[Dan Moren is an associate editor at Macworld.]
Dan Frakes contributed to this review.