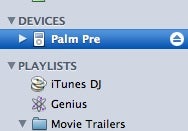 There's nothing quite like watching a good poker game: the bets, the raises, the subtle tics that reveal too much, the hushed murmurs of the crowd, and the simple knowledge that ultimately only one can walk away victorious.
On Tuesday, Apple raised the stakes of its ongoing match with Palm by publishing a passive-aggressive tech note reminding users of the terrible dangers of using unsupported third-party media devices—for which, read the Palm Pre—with iTunes. The bet went to Palm and, while many would have chosen to fold, Palm opted to call Apple's bluff. As company spokesperson Lynn Fox told All Things D's John Paczkowski:
"If Apple chooses to disable media sync in a future version of iTunes, it will be a direct blow to their users who will be deprived of a seamless synchronization experience. However, people will have options. They can stay with the iTunes version that works to sync their music on their Pre, they can transfer the music via USB, and there are other third-party applications we could consider."
It's up to Apple now to lay down its iTunes-updating cards or fold. Palm's gone all-in on the Pre, and while iTunes syncing is just the kicker in its hand, the company will probably do more damage to itself in the long-run by engaging in the same kind of cat-and-mouse game that Apple is playing with jailbreakers. It's one thing for consumers to take hacking into their own hands; it's quite another for a significant commercial product feature to depend on that hacking.
Apple, meanwhile, has an interest in keeping the secret sauce of iTunes syncing to itself: the hardware-software integration has long been a key selling point for the iPod and iPhone. Then again, there are dangers in yanking the rug out from under Palm—one can almost sense Palm poised to cry havoc and let slip the press releases of war should iTunes's next update break Pre syncing.
On the other hand, how much damage will really be done by leaving syncing intact? Apple doesn't need the headache of looking like a bully here; the Pre, after all, seems unlikely to overtake the iPhone anytime soon. So it costs little for Apple to shrug and leave the consequences pending into the hazy undefined future. And when that day comes, it can always point back to that tech note and say, "Hey. We told you so."