Mac users have become fans of OS X's Spotlight feature, which lets you quickly find items anywhere on your Mac. With the iPhone 3.0 software update, Spotlight has made its way to the iPhone, making it easier to find information and content. (Rob Griffiths is also taking a look at searching in iPhone 3.0.)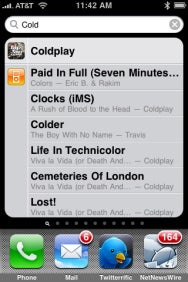 You access the Spotlight feature by going to the iPhone's Home screen and then swiping to the right; in other words, by navigating to the screen to the left of the Home screen. Alternatively, you can press the Home button when on the Home screen, or, using the Settings app, configure your iPhone to open Spotlight whenever you quickly double-press the Home key.
You'll see a search field at the top of the screen, and the iPhone's onscreen keyboard will appear at the bottom. Begin typing your search term, and in a few seconds results will start to appear on the screen. By default, Spotlight searches your applications, contacts, notes, e-mail messages, calendar events, and iPod content. Your search results are grouped by these item types: audio files in the iPod app, e-mail messages, Calendar events, and so on.
Tap an item to open it. For example, tapping a media file switches to the iPod app and begins playback of that track; tapping on an e-mail message opens Mail and displays that message.
Unlike Spotlight on the Mac, iPhone Spotlight doesn't search the full content of every file on your phone. Here's a list of exactly what the feature examines:
Read more…
Applications: each application's name
Calendar: event titles, locations, and invitees
Contacts: each contact's first, last, and company names
iPod: the names of songs, artists, and albums for music tracks, as well as the titles of audiobooks, podcasts, and videos
Mail: the To, From, and Subject fields of all local messages (including Sent mail); message bodies are not searched
Notes: the text of each note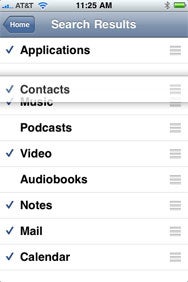 As the first item in that list shows, Spotlight isn't limited to finding data; it can also be used to quickly find apps and WebClips. Just type the first few letters of the name of the desired app or WebClip, and then tap on a resulting item to launch it. If you've got lots of apps installed, this makes Spotlight a quick and easy way to launch a particular app buried on one of your iPhone's many screens.
You can configure Spotlight to omit particular types of items from searches, as well as to change the order in which results are displayed. In the Settings app, go to General -> Home -> Search Results. Tap on a data type to toggle its checkmark; unchecked items are omitted from search results. To change the order of search results, drag the three-lined handle for an item to move that item up or down in the list.
Unfortunately, there's no way to exclude particular Mail folders or accounts from searches; for example, sent mail or, if you've got a Gmail account, junk-mail folders. I rarely want to see such messages when searching, yet they often dominate my Spotlight results.
App-specific Spotlight
In addition to using the Spotlight screen to search your entire iPhone, Spotlight can be used within several apps; specifically, Calendar, Contacts, iPod, Mail, and Notes. By using these app-specific Spotlight interfaces, you can limit your search to each app's particular type of data; in addition, some apps provide options for fine-tuning your search.
(In Calendar and Contacts, you see this app-specific Search field as soon as you launch the app. But in iPod, Mail, and Notes, it's hidden by default. Just scroll "up"—meaning swipe your finger down the screen—to reveal the field at the top of the screen. In Mail, you need to be browsing a mailbox to access the Spotlight field; it won't appear in the Accounts view or while browsing the list of mailboxes in an account.)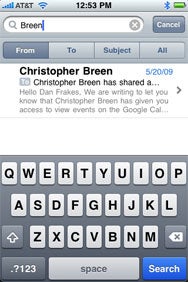 For example, when using the search field in Calendar, Contacts, iPod, or Notes, your results are limited to the contents of the respective app, so you aren't distracted by unwanted data. The iPod app goes one step further by grouping your results into artists, albums, songs, movies, podcasts, podcast episodes, and so on.
In addition, Mail offers several search filters, letting you limit your search to message subjects, senders, or recipients. (Unfortunately, even when searching within the Mail app, Spotlight doesn't search the body of e-mail messages.) And for Exchange, MobileMe, and many IMAP servers, a Continue Search On Server option appears at the end of your list of results; tap it, and Spotlight will expand your search to messages on the server that you haven't downloaded to your phone.
Unfortunately, and unlike Spotlight in Mac OS X, Spotlight on the phone can't search for, or within, data in third-party apps.
[Dan Frakes is a senior editor for Macworld.]