Deskology's new $189 Deskset is a set of four desk accessories especially designed to complement the aluminum finish of modern Macs.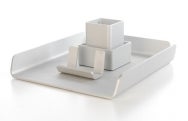 The Deskset consists of an inbox, pencil cup, "doodad" cup and business card holder, all milled from 3/16th-inch-thick anodized aluminum with a matte finish. The underside of the objects is fitted with cork to help reduce sliding.
The company expects to ship the Deskset in early July.