The following article is excerpted from Digital Arts.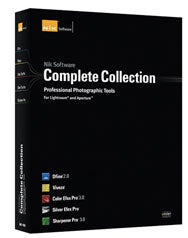 Nik Software is making its popular Complete Collection, which bundles all of the company's digital imaging software tools, available as a Lightroom Edition for $300.
The Complete Collection for Photoshop has been updated to include Adobe Photoshop Lightroom 2 support as well and also includes installers for Adobe Photoshop and Apple Aperture. Current registered owners of the Photoshop versions of Nik Software products can download and install the Lightroom compatible versions free of charge.
With the Complete Collection Lightroom Edition, each individual software product is installed as a plug-in for Lightroom 2. Once installed in Lightroom, Dfine 2.0, Viveza, Color Efex Pro 3.0, Silver Efex Pro and Sharpener Pro 3.0 are accessible via the Photo ->Edit In menu. Edits made using the plug-ins within Lightroom are non-destructive in nature, with edits applied automatically to a newly generated TIFF file and not the original. Each product also takes advantage of Lightroom and its efficiencies for every day tasks, like the ability to edit multiple images in one session, saving time for photographers.
All the products in the Complete Collection feature Nik's patented U Point technology which the company claims revolutionizes the way photographers edit. U Point powered Control Points give photographers precise selective editing functions without the need to create complicated selections and layer masks. This allow photographers to make selective enhancements in a fraction of the time needed by using other methods, says the company.
The Complete Collection Lightroom Edition as well as the Complete Collection Aperture Edition are available to buy online from Nik Software or in boxed versions from Nik Software and through specialty camera retailers.
Customers who currently own Photoshop versions of Nik Software products may use their product keys to install the Lightroom versions.