Hudson Entertainment has announced the release of Bomberman Touch 2: Volcano Party, a new game for the iPhone and iPod touch that uses iPhone OS 3.0 multiplayer capabilities. It costs $3.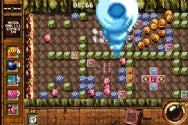 The sequel to a game that first appeared for the iPhone and iPod touch shortly after last year's debut of the App store Bomberman Touch 2 sports "classic" Bomberman-style play: You navigate a maze filled with bad guys, setting off bombs to clear obstacles and to kill the baddies, revealing a door that lets you get to a new level and collecting power ups and other bonuses along the way.
New to this game, however, is the new Bluetooth multiplayer capability newly enabled with iPhone OS 3.0 (to use it you'll need to have either an iPhone or a second-generation iPod touch with iPhone OS 3.0 installed). You can play against up to three other players (including two CPU-controlled players) or in a cooperative Challenge mode.