Freeverse Software on Thursday announced the release of Postman, a new iPhone and iPod touch application. It costs $1.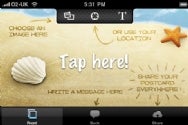 Postman lets you take a photograph, edit greetings and add personalized messages. It works with Google Maps to identify your location and enables you to select weather, too. You can then share your electronic postcard with friends on Facebook, Twitter, Tumbler, another Web site or through e-mail, straight through the application. (To do all this, Postman leverages iPhone OS 3.0 capabilities.)
When you purchase through links in our articles, we may earn a small commission. This doesn't affect our editorial independence.