Storyist Software has updated its story development tool, the aptly named Storyist, to version 2.0. The program, which features word-processing and organizational features, now adds a new "collage" mode to help visualize connections between story elements, a full-screen view, multiple windows, and support for comments and bookmarks.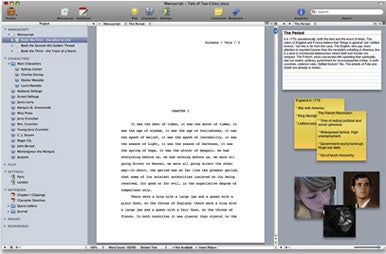 Other changes in Storyist 2.0 include a color-coded outliner, support for images in documents, and an improved project manager for mapping out story ideas.
Storyist 2 requires Mac OS X 10.4.11 or later. A downloadable version costs $59, but a combination download and boxed software set including a CD and printed manual costs $79. Registered users of Storyist 1.x can upgrade for $29; those who purchased Storyist 1.x since September 1, 2008 can upgrade for free.—Dan Moren
Setup assistant simplified in Sync'Em update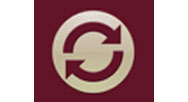 Derman Enterprises released an update to Sync'Em, introducing a simplified setup assistant to the utility for synchronizing contact and calendar information between Microsoft Exchange, Google, and Apple's Contacts and Address Book apps.
Sync'Em 1.30 also tackles bug fixes as well and introduces a work-around an Exchange Server issue and a limitation with Google contacts.
Sync'em runs on OS X 10.4 and 10.5. The 1.30 update is free to existing 1.x users. Derman Enterprises offers different Sync'Em licenses at varying prices.—Philip Michaels
Casio previews WXGA projector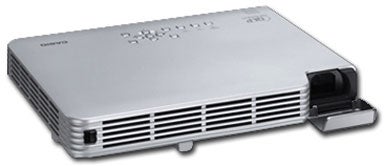 Casio announced a new addition to its Super Slim line of projectors. Casio's XJ-S43W projector features native WXGA (1,280-by-800) resolution, aimed at delivering widescreen presentations.
The 10.63-by-7.83-by-1.69-inch XJ-S43W weighs in at a little less than 4 pounds. It features 2,500 lumens of brightness and an 1,800:1 contrast ratio. The projector also features an HDMI input.
Slated for a September release, the XJ-S43W costs $999.—PM