At first glance, the recently announced Olympus E-P1 digital camera looks like a classic rangefinder from the film era. But in fact, the camera has much in common with a modern digital SLR, including interchangeable lenses, a 12.3-megapixel image sensor, and even support for Raw and 720p video recording. As a bonus, it comes neatly packaged in a body closer to the size of a compact point-and-shoot.
I recently spent some time testing out the E-P1—which will ship in July. Here's a first look.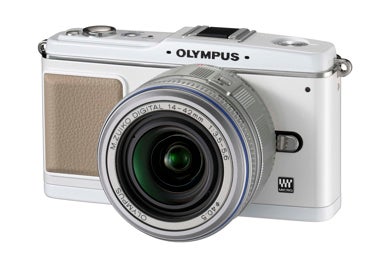 DSLR capability in a smaller package
So just how small is the E-P1? If you placed an iPhone over the back of the camera, it'd cover everything but the top aluminum plate where the shutter release and hot shoe sit. And even with the 14mm – 42mm kit lens attached, the depth is a mere 3 inches.
The camera's small stature is made possible by the Micro Four Thirds standard. This means that the E-P1 uses the same sensor size as a regular four thirds SLR camera, but leaves out or miniaturizes other components. The traditional finder and mirror box are gone, for example. That means there's no optical viewfinder built into the camera. Instead, you compose shots on the 3-inch LCD screen. By doing this, Olympus reduced the area needed for the back lens flange by half. The lens mount itself is 6mm smaller in diameter than the standard four thirds mount. The bottom line: if you're willing to give up the built-in optical viewfinder, you get in return DSLR capabilities in a smaller package.
Olympus also beefed up the electronics. With the new TruePic V image processor, low light performance is improved over previous generation Olympus DSLRs, as well as color fidelity. Right away I noticed that the picture quality more closely resembled what I see with my eyes, in part because of the camera's Shadow Adjustment Technology that opens up dark areas in the scene. Most keen-eyed photographers should be happy with the results up to ISO 1600. ISO 3200 and 6400 should be reserved for situations where getting the picture is more important than its level of noise.
Responsiveness
The biggest complaint I hear about compact cameras is their long shutter lag and overall sluggish behavior. When you turn on the E-P1, it's ready to shoot in about a second. Focusing is fast using its 11 focusing points, and shutter lag is minimal. Burst mode is 3 fps. In other words, it feels like DSLR when you press the shutter button.
Composing the shot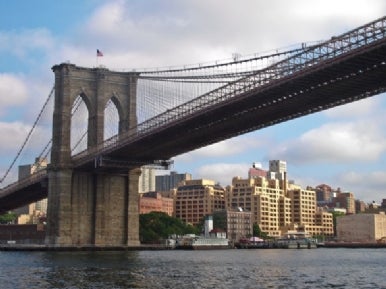 Since you're not using an optical viewfinder (unless you purchase the 17mm f/2.8 lens, which comes with an optical viewfinder than mounts in the hot shoe), you have all the normal challenges of composing on an LCD screen. To help line up the shot, I turned on the camera's Digital Level Gauge, and I don't plan on ever turning it off. It displays both pitch (vertical) and roll (horizontal) on the right and bottom of the viewfinder. When you're off in either direction, it shows you exactly how much. When you square up the shot, the gauge lights up green letting you know you're ready to shoot. I used the leveler to capture the shot of the Brooklyn Bridge while standing on a moving water taxi. It worked great!
The LCD itself is fairly good. It packs 230,000 pixels in a 3-inch area. But like all LCDs, it can be difficult to see detail when viewing in bright sunlight. And since you have the LCD on more than you would with a traditional DSLR, the battery drains quicker. I definitely recommend that you purchase an additional battery if you buy the camera. During a full day's shoot, I had to change to the second one by mid afternoon. You can help mitigate power drain by programming the Fn button on the back to turn off the LCD (but not the camera) when you're not shooting. Press it again with your thumb, and the LCD lights up and is ready to go.
Video Recording
In addition to photos, the E-P1 also captures 720p video. Unfortunately, Olympus opted for the AVI Motion JPEG codec instead of a more modern MPEG-4 encoder. As a result, file size per capture is limited to 2 GBs, which plays out as 7 minutes for HD capture or 14 minutes for standard definition. (You will need a Class 6 SDHC card to assure proper performance.)
Olympus says that the AVI files were easier to play on older, less powerful computers. That may be true, but most photographers interested in this camera will likely have relatively current machines. And even though the E-P1 has excellent stereo recording via its onboard, front facing microphones, there isn't an external microphone jack. So you have little control over audio capture. If you're feeling creative, you can apply art filters to video to create motion picture effects such as grainy film or light tone.
Lens selection
Initially, you have two lens kits to choose from. One configuration includes your choice of body color (silver or white) with a 14-42 mm Zuiko zoom lens for $800. Olympus is also offering a 17 mm kit with optical viewfinder for $900. You can also buy either lens individually.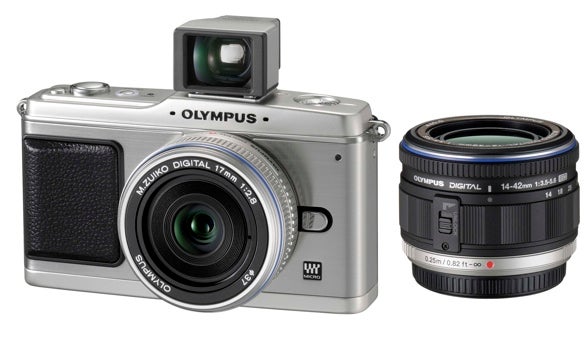 The E-P1 also supports regular four thirds lenses; you'll need the MMF-1 adapter. Olympus currently offers more than 20 four thirds lenses. If you have older OM lenses stashed away in the closet, you can buy the MF-2 adapter to use those lenses on the E-P1, keeping in mind that you'll have to focus manually. The E-P1 comes in two flavors: a silver body with black accent, or a white metal body with tan accent. You can buy the body alone for $750.
Flash photography
There's no built-in flash, but you do have three accessory flashes to choose from. I used the compact FL-14 flash. It slides right into the hot shoe and looks great on the camera. In fact, I would often just leave it mounted during the course of the day in case I needed a little fill flash for portraits.
Getting creative
The E-P1 offers four aspect modes (4:3, 3:2, 16:9 and 6:6). For full resolution, you should use 4:3. But if you don't mind giving up a few pixels, the other aspect ratios are fun to play with.
There are also six art filters built into the camera that can be applied to both stills and video. You can use them at capture, but I prefer to shoot in Raw, and then later play with the filters on the LCD to create new images. I also like the e-Portrait feature, which uses the camera's face-detection technology to smooth out skin tones while leaving other areas such as eyes and hair alone (this also can be applied in playback mode).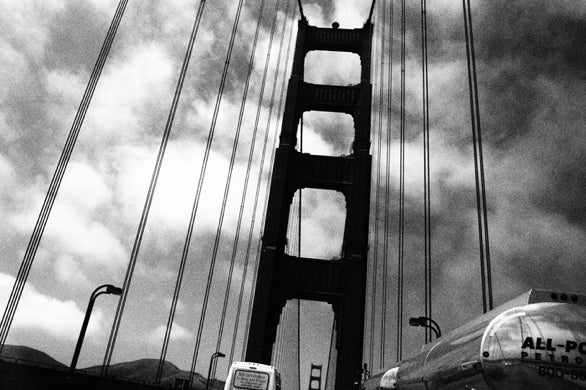 Initially for Raw processing, you'll need to use the Olympus Master 2 software that comes with the camera. There are both Mac and Windows versions. Up the road, however, I'm guessing that Adobe and Apple will provide Raw profiles for the E-P1.
Is it a compact or DSLR replacement?
Many photographers will ask if the E-P1 is a compact camera or a DSLR replacement. Quite honestly, it's neither. The Olympus E-P1 is its own breed of camera. For many travelers, journalists, bloggers, serious hobbyists, and families, this could easily be the only camera they'd ever need—especially if they add an extra lens and an accessory flash. Hard core DSLR shooters who want a versatile back-up or a more discreet camera for street shooting will most likely be interested in adding the E-P1 to their bag of tricks. And, this could also be a good "move up" camera for compact camera snap shooters. But my guess is that demand for the E-P1 will be driven mostly by pure desire for a handsome, well made, flexible image capture device that delivers high quality for a reasonable price. The Olympus E-P1 should be available worldwide in July 2009.
What I liked
Well-crafted, attractive stainless steel and aluminum body.
Raw, JPEG, and 720p recording formats.
Excellent image quality with 12.3 MPs resolution.
Improved ISO performance over previous Olympus cameras.
Good combination of manual controls and automation.
Many creative features such as multiple exposure and art filters.
Uses SD and SDHC memory cards instead of xD Picture Card media.
HDMI output for slideshows and movies.
What I didn't like
Motion JPEG AVI codec instead of MPEG-4.
No external microphone jack.
Cumbersome battery recharger with cord.
LCD can be difficult to view in bright sunlight.
Reliance on LCD drains the batteries over a long day.
[Senior Macworld contributor Derrick Story also hosts a weekly photography podcast at www.thedigitalstory.com.]