At a Glance
Expert's Rating
Pros
Good range of features including manual controls
Good video quality
Solid build
Cons
Geotagging feature didn't work
Confusing touchscreen menu system
Odd manual dial location
Our Verdict
Sony's claiming two world firsts for its current crop of high-end HD camcorders, the first being a three-way optical image stabilizer (all its rivals offer two-way), which promises to reduce camera shake by up to 10 percent, and built-in GPS so you can geotag your movie as you shoot. The Handycam HDR-CX520V also includes Sony's Exmor R, a backlit image sensor that claims a two-fold increase in sensitivity to light, so it should give better results with low light work.
As you'd expect with Sony camcorders, the HDR-CX520V's build quality is high and it sits comfortably in your hand, giving easy access to its wide zoom toggle and still photo buttons. You'll find the usual smattering of sockets dotted around the camcorder's body—you'll have to use the standard AV cable or buy a mini HDMI adaptor, though, as there's no component video out.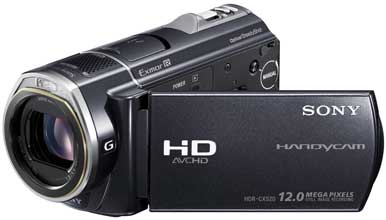 The HDR-CX520V has a manual dial at the back of the camera in the LCD recess, which offers control over focus, white balance, exposure and so on, but it's location isn't very logical as either the Panasonic's manual lens ring, or the slightly less successful control wheels from JVC and Canon. Sony has yet to address its touchscreen menu system successfully; it's intimidating for newbies and doesn't get any less confusing with use. Settings and features seem wilfully hidden in obscure places and even the customisable My Menu doesn't really help.
The HDR-CX520V also offers a low recording bit-rate, with the highest quality setting maxing out at 16Mbps, compared to the 17Mbps and 24Mbps bit rates from its rivals. The result that the HDR-CX520V isn't quite as capable in delivering rich detail, although colours and skin tones are rendered accurately in bright light. Sony's famous Low Lux and NightShot modes do make shooting at twilight a breeze, with low levels of picture noise.
As for the headline-grabbing new features: the three-way SteadyShot optical image stabilizer does deliver some improvement over conventional systems, but its benefits are marginal, and I couldn't get the geotagging feature to work. Geotagging for videos isn't supported in iMovie '09 anyway, which made light work of importing our footage.
Macworld's buying advice
For what it offers, the Handycam HDR-CX520V is expensive, especially when you consider that two of the most trumpeted features only work marginally better than before, or don't offer any real benefit yet. The HDR-CX520V has some good qualities, but you can find other camcorders that are similarly priced and deliver better results.
[ Rob Mead is a freelance journalist.]