Whenever a new gadget hits the streets, it's a race to see who wil be the first to reduce to its constituent pieces. With the launch of the iPhone 3G S we've got a pair of different companies doing their darndest to disassemble the latest iteration of Apple's iconic device. Frankly, I'd be happy to have one fully assembled right now, but the FedEx guy has shown up yet.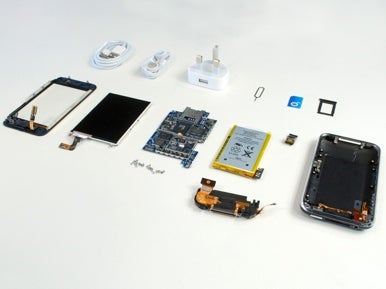 The folks at iFixit have, as always, done a speedy job at tearing down the 3G S, which they note bears some similarities to its predecessor, the iPhone 3G. And like the 3G, the 3G S easily gave up its secrets in the hands of these experienced dissectionists. There's nothing amazing to note: as expected, the primary ARM processor is a Samsung design, and there's also the requisite amount of Toshiba flash memory.
Meanwhile, the RapidRepair team was also hard at work breaking down its own iPhone 3G S. They noted a few differences from the iPhone 3G, such as a different LCD driver package. The battery and screen itself look to be very similar to the 3G's.
So, there you have it: the iPhone 3G S in all its component glory. We sincerely hope you won't ever be in need of this detailed information, but should some part of your iPhone decide to die an ignominious death, it's always comforting to know that somebody's ventured into these depths before.
[Image via iFixit]