At a Glance
Expert's Rating
Pros
Syncs easily with companion iPhone app
Enables effortless collection of random information
Possible to edit and organize documents on iPhone app
Several ways to get information from your Mac into ShoveBox
Can automate organization of imported documents
Quick
Cons
Existing photos on iPhone can't be added to ShoveBox
Many standard file types not supported
Cannot sync iPhone app with more than one Mac
Automated processing somewhat limited
Our Verdict
Organization is not my strong suit. I don't mean that in a bad way. I only mean that I'm not the kind of guy who does well with the GTD kind of clear-your-desk, clear-your-mind way of thinking that seems to be the zeitgeist of the day. For me, it's too much work and takes too much thought. But the truth is, I do need some method for gathering and organizing the mass of information that comes my way every day. Fortunately, ShoveBox 1.7.3 provides a simple, intuitive way to organize a variety of information without becoming burdensome.
ShoveBox is as simple as this: You have something you want to save—an idea, an image, a Web page, an e-mail message, a PDF file, a bit of text, or the contents of your clipboard—you get the idea. You don't want to lose it, but you don't have time to save and organize it either. You just need to set it aside to take care of later. ShoveBox lets you capture and store these items without requiring you to name what you've captured or organize it while you capture it.
The first and most obvious way to get information into ShoveBox is by dragging items from anywhere on your Mac–such as an image from the Finder or a text selection from a document—to the ShoveBox icon in the menu bar. ShoveBox recognizes the kind of item you're dropping and imports it into the program. Alternatively, by opening the ShoveBox menu you can create new text notes, grab images from your iSight camera, create Quick Jots—quick-and-dirty notes that need no title—or create new items from snippets you have stored on the clipboard. As if that isn't enough, you can also use the Services menu to send stuff to ShoveBox, create your own keyboard shortcuts, or use a bookmarklet to capture Web links or entire Web archives.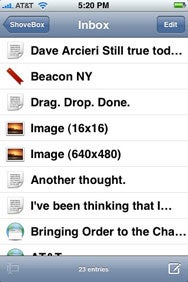 ShoveBox is adept at importing a number of file formats, including TIFF images, PDFs, Microsoft Word documents, and text docs; however, it has a harder time when it comes to a number of other files you might find on your Mac, such as Excel spreadsheets, Pages documents, or Keynote and PowerPoint presentations, although most of these limitations can be overcome by saving these documents as PDF files and importing those into ShoveBox. Also, while ShoveBox is capable of working with Word documents, these imported documents will not retain high-end formatting such as tables.
Once you've collected your random bits of info, you'll need to use ShoveBox's Organize tool to sort those bits into folders that make sense to you. The program offers some rudimentary automated processing options for items you import into ShoveBox using a Rules tool similar to the rules feature found in Mail. So, for example, if you want every image you import to go into a specific folder, you can set up a rule to have it drop into that folder automatically. Unfortunately the rules tool wasn't quite as capable as I would have liked, especially with some of ShoveBox's built-in tools like Quick Jot. I wanted to be able to have every Quick Jot drop into a specific folder, but the rules tool couldn't differentiate the text in a Quick Jot from any other text file; so, at present, there's no way to automatically have all your Quick Jots drop into a specific folder.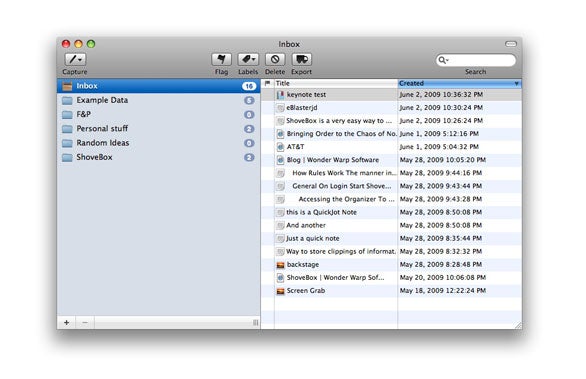 iPhone variation
One of ShoveBox's best features isn't technically part of the desktop application: it's the ShoveBox app for your iPhone or iPod Touch ( ), which can be synced with the desktop application via Wi-Fi. The beauty here is manifold. As the documentation is quick to point out, it's easy to forget to organize what you've shoved in ShoveBox on your Mac, but easier to organize that information while you're waiting in line at Costco, trying to kill a few minutes before (or during!) a meeting, or riding the subway to work.
Anything organized on your iPhone will be synced with your desktop app once you're back near your Mac. Plus, any Web archives you're captured using the desktop app can be viewed on your phone or Touch without an Internet connection; and you can use your iPhone to edit any text document you've captured, as long as it isn't a PDF. I was only disappointed that I couldn't sync my iPhone with more than one computer and that there was no way for me to get photos already in my iPhone's photo library into ShoveBox.
Macworld's buying advice
ShoveBox 1.7.3 is a versatile and simple yet comprehensive tool that will allow you to capture a wide variety of data effortlessly. While there are some limitations to the types of files you can capture and the ways you can automatically filter what you're capturing, overall ShoveBox offers the easiest way I've found so far to collect, and, yes, organize the random and disparate yet necessary information that constantly crosses my path.
[ Jeffery Battersby is a (very) small-time actor, IT manager, and regular contributor to Macworld.]