So far as eight-country rollouts go, Friday's iPhone 3G S launch looked non-eventful from this little corner of the world. Oh, there were reports of activation issues, which probably felt like a big deal if they happened to affect you. But by and large, those issues appeared sporadic—certainly nothing along the lines of the widespread problems that dogged the iPhone 3G launch. (Don't take my word for it—the Associated Press said this year's iPhone rollout went down with "less drama" than the 2008 launch.)
Which is not to say, people haven't had problems. When they do, we'll try our best to report them and—even better—pass along any solutions we here about.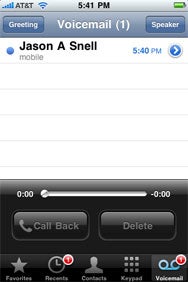 Take the case of reader Jud White who upgraded to an iPhone 3G S from his original iPhone. Just one problem—visual voicemail wouldn't set up for him. When he tapped the icon, instead of showing the visual voicemail screen we've come to know and love, Jud's phone would place a call to voicemail. A call to Apple tech revealed that he wasn't the only person experience this problem Friday.
But there's a fix, Jud discovered, and he found it in a MacRumors forum post from two years ago (which would suggest this is not an iPhone 3G S-specific issue). Here's how Jud fixed his voicemail problem:
Sign into AT&T's Web site and select your phone/device.
Choose Reset Voicemail Password on the right column.
Click submit when the site asks you if you want to reset your password.
"It will then tell you that your password is reset to your phone number in a text message," Jud told us via e-mail. "You can click on the Visual Voicemail icon again and re-set up your Visual Voicemail."
Thanks for the tip, Jud. Hopefully, you've saved other iPhone users some bother.