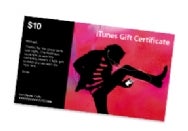 In a stunning development—okay, not so much a "stunning development" as a nice little gesture—Apple has been sending out apologetic e-mails to those of the over a million iPhone 3G S customers who were unfortunate enough to run into activation issues with their brand new gadget.
Just as with last year's launch of the iPhone 3G, several early adopters of the newest addition to the iPhone family were greeted by a none-too-friendly message stating that their phones might take up to 48 hours to be activated when they plugged them into their computers.
It's unclear whether this was a problem with Apple's iTunes servers or AT&T's activation mechanism, but Apple has stepped up to the plate and is now offering all affected customers a $30 iTunes gift certificate to make amends. Below is the full text of Apple's e-mail:
Dear Apple Customer,

Thank you for your recent Apple Store order. We appreciate your patience and apologize for the inconvenience caused by the delay in your iPhone activation.

We are still resolving the issue that was encountered while activating your iPhone with AT&T. Unfortunately, due to system issues and continued high activation volumes, this could take us up to an additional 48 hours to complete.

On Monday, you'll receive an email from Apple with an iTunes Store credit in the amount of $30. We hope you will enjoy this gift and accept our sincere apologies for the inconvenience this delay has caused.

Thank you for choosing Apple.

Sincerely, Apple Online Store Team
If you were one of the first buyers of the iPhone 3G S and have suffered activation issues over the past weekend, you should be receiving a similar e-mail shortly (if you haven't already). Try not to spend those entire thirty bucks exclusively on fart applications, huh? And while you're at it, take a moment to marvel at just how good the customer service at Apple is.
[via TechCrunch]