ExpressCard slots may have gone away on new 15-inch MacBook Pros, but that's not stopping Nova media from offering the GlobeTrotter Express 441 — a new ExpressCard-based 3G cell data modem designed to work worldwide. It costs €190 (US$264).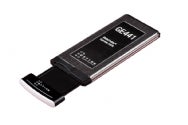 The GlobeTrotter Express 441 supports HSPA connections in the 850, 900, and 2100MHz bands with up to 7.2 megabit per second download speeds and up to 5.76 megabit per second upload speeds. It works with GPRS and EDGE networks in the 850, 900, 1800 and 1900MHz bands. Designed to fit into the ExpressCard/34 slots found on older 15-inch MacBook Pros and all 17-inch MacBook Pros, it features a retractable antenna.
Nova includes GlobeTrotter Connect software, which is included on the ExpressCard device itself and is automatically installed when you first insert the card. It provides you with access software to help configure the device to operate with your local cell data service carrier.
System requirements call for Mac OS X 10.4.11 or Mac OS X 10.5.6 or later. It's also compatible with Windows.