The following article is reprinted from the Today@PC World blog at PCWorld.com.
Humans may excel at pattern recognition, but computers aren't very smart at identifying images. Our brains can immediately identify photos of famous landmarks such as the Statue of Liberty or Great Wall of China, but computers are typically clueless without text tags as a cheat sheet.
This may be change, however, if a Google research project in "computer vision" pans out. The search giant Monday presented a paper on landmark recognition at the Computer Vision and Pattern Recognition (CVPR) conference in Miami. The new technology allows computers to quickly I.D. images of more than 50,000 world landmarks with 80-percent accuracy, Google says.
Google is quick to point out its pattern-recognition technology is still a research project and not a new service. That makes sense, as a search tool that's right just 8 out of 10 tries isn't ready for prime time. Still, the concept is pretty cool and could prove a boon to travelers if Google can someday boost the accuracy rate. The ability to snap a photo of an unidentified landmark and have your smartphone or Net-enabled camera identify it immediately would be popular, I think. Of course, there's also the potential for scientific and consumer applications that no one's thought of yet.
So how does it work? Jay Yagnik, Google's head of computer vision research, explains in a blog post. The first step is to use 40 million GPS-tagged photos from two Google services, Picasa and Panoramio, and online tour guide webpages to compile a list of landmarks. "Next, we found candidate images for each landmark using these sources and Google Image Search, which we then "pruned" using efficient image matching and unsupervised clustering techniques," he writes.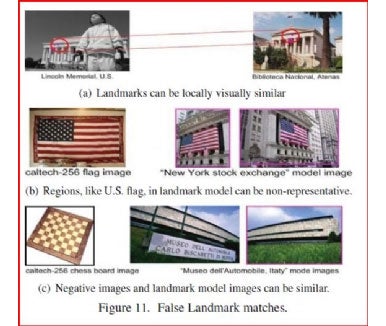 The final step was to develop an indexing system for fast image recognition. But despite the cleverness of the project, accurate image search remains tricky. As the photo to the right indicates, unrelated landmarks may share similar architectural features; also, the inclusion of an enormous banner or flag can lead to a false match.
Hopefully Google's research project will improve image search, which today is too reliant on tagging. The next step would be to find a way to identify the countless number of non-landmark images, but that task seems infinitely more challenging.