At a Glance
Expert's Rating
Pros
Connected GPS provides Google Local Search
Live traffic, weather, and fuel price updates
IQ Routes technology works well
POI database has 7 million entries
Cons
Connected services cost $10 per month
Lacks Bluetooth support
Our Verdict
Just in time for the holidays, the TomTom XL 340S Live is now available. The XL 340S Live has built-in GPRS radio module that promises to provide you with live traffic updates, weather reports, Google Local searches, and fuel prices.
At $300, the XL 340S Live is a bargain for a connected GPS device. It includes a three-month subscription to the Live services; but after that introductory period, a subscription will set you back $10 a month. Unfortunately, TomTom's connected services remain a mixed bag.
The XL 340S Live has a 4.3-inch screen and comes bundled with TomTom's unique EasyPort mounting bracket. The device includes maps for the United States (all 50 states), Puerto Rico, Canada, and Mexico. The built-in seven million points-of-interest (POI) database, supplemented by the Google Local Search feature, ensures that you'll be able to find relevant POIs quickly.
Like all TomTom products, the XL 340S Live uses the company's IQ Routes technology to provide the best route and to estimate your time of arrival based on historical speed data and traffic patterns. If traffic conditions change and a better route becomes available, the XL 340S Live will give you the option of switching to the alternative route.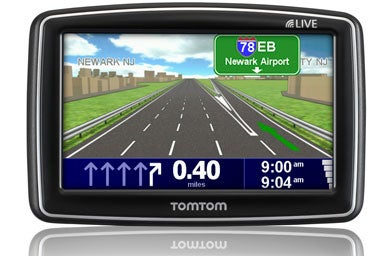 The XL 340S Live's text-to-speech feature provided clear directions at appropriate intervals. The routes generated were consistent with those produced by other TomTom devices, and took traffic into consideration. The Live traffic view showed the expected daily-commute traffic jams between New Jersey and New York City, as well as construction sites along the New Jersey Turnpike.
MapShare, another feature unique to TomTom products, lets you share map and POI updates with other TomTom users. MapShare updates, along with optional voice files, map updates and GPS quick fix data are all available through the free TomTom Home application.
To reach the XL 340S Live services, you click a Live Service icon located on the first screen of the main menu. You can search for fuel prices in any of five categories of fuel (diesel, regular, midgrade, premium, or E-85), and you can search by distance, price, cheapest nearby source, or cheapest source in the area. If you are actively following a TomTom route, you can search for the cheapest fuel on your route. I spot-checked a number of local gas stations, and found TomTom's fuel price listings accurate and up-to-date. I also discovered a gas station that could save me $0.16 per gallon over my usual gas station if I was willing to drive a mile farther away.
You can search for weather forecasts with the XL 340S Live using any of the same methods available for selecting a route—favorite, near an address, near your current location, near a recent location, or near a point on the map. A five-day forecast appears on the screen, and the XL 340S Live reads aloud the forecast for the current day.
Google Local search lets you conduct searches by name for POIs that are nearby, in a specific city, near your destination, or near any other "Navigate to" option. If you want to search for POIs by category, you must use the built-in POI database available from the main "Navigate to" menu.
Safety Alerts, a new feature found on the Live menu, can warn you about fixed or mobile safety cameras, red-light cameras, toll-road cameras, and restricted-road cameras. TomTom wirelessly updates data on mobile cameras, but the only way to update the fixed-camera data is by connecting the XL 340S Live to a computer via the Home connection.
Macworld's buying advice
Whether the XL 340S Live is the right product for you depends on how much you value weather updates, Google Local search, and the other features that the GPRS connection provides. If you already have a data plan on a smartphone, it might make more sense to buy the XL 340S plus the optional $60 traffic receiver (which includes a 12-month subscription).