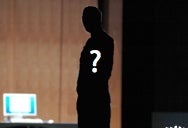 The little Apple news that hasn't been about the new iPhone this week seems to be swirling around Apple CEO Steve Jobs. Unless you've been staring at your iPhone 3G S's Compass application since its release on Friday—so hypnotic—you'll probably have heard the reports, first broken by The Wall Street Journal, that Jobs underwent a liver transplant earlier this year.
But the real question is whether or not Steve Jobs has returned to work. Since Jobs's announcement that he'd be taking a leave of absence, Apple's public statements on the matter have consistently stated that the CEO would return to work "at the end of June." Jobs was quoted in Monday's press release about iPhone 3G S sales—the first time that's happened since his absence took effect—and since the calendar shows just a week left in June, is it possible he's already back in the saddle?
CNBC's Jim Goldman says yes, yes—a thousand times, yes ! Goldman cites unnamed employees who confirm that Jobs was been seen on the Cupertino campus on Monday of this week; a Reuters reporter also said that he saw a beturtlenecked Jobs leaving campus (the turtleneck and jeans confirming beyond the shadow of a doubt that this was not merely some Jobs decoy).
This wouldn't be the first time reports have suggested that Jobs has been seen on the campus in the past few months, so it's possible he's just dropped into the office to touch base with Tim Cook and crew. Or maybe he accidentally left his Beatles Anthology collection on his desk—who knows?
Either way, Apple didn't respond to a request for comment on whether or not Jobs had returned to work, but we imagine that if he's flipped his iChat status back to "Available" then we'll all know for sure before long.