What's for dinner? In my house, some days we know the answer to that question well in advance, preparing meals ahead of time with no last-minute scrambling. Then we wake up.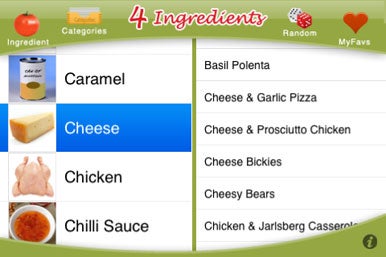 That's where 4 Ingredients, a $4 app from LoL Software, comes in. The app looks pleasant enough, and comes loaded with more than 400 recipes—each of which contains four or fewer ingredients. You can either scroll through a list of ingredients or browse by category to find applicable recipes, and then you start cooking. In theory.
When I browed to a staple at our house—cheese—the recipe that first caught my eye was called "Cheesy Bears." The instructions called for both vegemite and a teddy bear-shaped cookie cutter. I consider my kitchen fairly well stocked, but I had neither item. Unfortunately, there's no way to narrow 4 Ingredients' offerings to just those recipes whose ingredients I have on hand.
I wanted to find a recipe for the yellow peppers in our fridge. While some veggies (peas, potatoes) are listed as top-level ingredients, it seems that peppers are encapsulated in the catch-all "Vegetables" category. The lack of a genuine search feature, which could instantly recall any recipes with peppers, is an unforgivable oversight.
As is, 4 Ingredients frankly doesn't make sense as an iPhone app. An actual cookbook, preferably with an index, would prove more useful more quickly than this largely hit-or-miss app.
4 Ingredients is compatible with any iPhone or iPod touch running the iPhone 2.2.1 software update.
[ Lex Friedman is thinking of just ordering some Chinese food.]