BioWare and EA have collaborated to release Mass Effect Galaxy for the iPhone and iPod touch. It's available for purchase from the App Store for $5.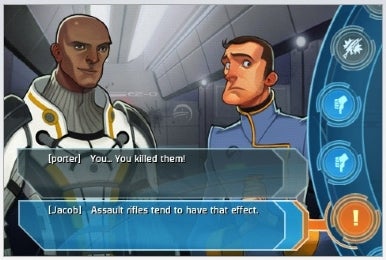 Based on BioWare's action role-playing game for the Xbox 360 and Windows, Mass Effect Galaxy is exclusive to the iPhone. It's a storytelling adventure with an animated graphic novel look and feel and very different gameplay from its forebear—it uses tilt controls and is less "RPG-ish," better suited for the iPhone.
In Mass Effect Galaxy, you take the role of Jacob Taylor, trying to foil a plot to knock humanity off the galactic stage, hatched by alien terrorists who are preparing to stage a biological assault against the human race.
The game even features two man characters who will appear in Mass Effect 2, the upcoming sequel to the popular console and PC game.