At a Glance
Expert's Rating
Pros
High dynamic range produces creative shots
Great image controls for both stills and video
Light and well designed for a megazoom
Cons
Button layout and controls are cumbersome
No flip-out LCD or optical viewfinder
Our Verdict
Panasonic's Lumix DMC-FZ35 is quite simply one of the best fixed-lens cameras out there for both stills and HD video. If you can deal with slightly grainy, non-1080p video footage (the FZ35's video resolution maxes out at 720p), it may be the ideal hybrid model to serve double-duty as a camera and camcorder.
It's hard to know where to start, as this is such a versatile megazoom camera. The DMC-FZ35 excels in manual controls and low-light video footage, and it offers near-perfect automatic settings, unique scene modes, and a slew of imaging options (RAW, RAW+JPEG, JPEG, AVCHD video, and MPEG video).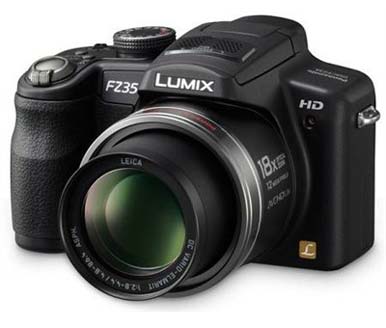 Seasoned photographers will enjoy all of the manual tweakability: Shutter priority, aperture priority, and manual exposure controls are available for stills and video. I can't remember seeing that many manual settings in a still camera for the video side of things; the camera also puts a few of its basic scene modes (Portrait, Sports, Landscape, Macro, and Low Light) at your disposal when you're shooting video.
It looks bigger and heavier in photos than it is in real life. In a surprisingly light (0.9-pound) frame, the 12-megapixel DMC-FZ35 provides an 18X-optical-zoom Leica lens (27mm to 486mm) with good optical image stabilization.
Zooming in and out with that 18X lens is possible while you're filming, and it's a quiet zoomer that doesn't creep into your audio track. The camera hosts stereo microphones on top of its pop-up flash, and it picks up sound well.
Although autofocus is fast in normal shooting conditions, it did struggle on both stills and video once I neared the telephoto end of the zoom. Sometimes the image blurred in and out, ultimately failing to lock in on a sharp result at all. What's more, the 2.7-inch LCD on the DMC-FZ35 doesn't flip out or rotate, which would have been a nice touch for such a versatile camera.
The camera can be a complicated beast to use once you dive into all the options; but despite all those manual settings, the DMC-FZ35 is also a novice-friendly model. Intelligent Auto mode is a great set-it-and-forget-it weapon, and it works for both stills and video footage.
In our video test, Intelligent Auto did an astonishingly good job in low light. It even made test video footage look as if it had been shot in bright lighting conditions.
Here's the test video we shot in low light (recorded in AVCHD format at 17mbps), along with the same scene shot with the best low-light pocket camcorder we've tested, the second-generation Flip MinoHD ( ). In Intelligent Auto mode, the FZ35 did so well in the dark that I had to quadruple-check the file name to make sure that it was the low-light test video.
Low-light test: Panasonic Lumix DMC-FZ35
Low-light test: Flip Video MinoHD (second generation)
Getting that result was a bit counterintuitive (and an example of how a camera with this many options can get confusing): Instead of selecting the Movie Mode from the camera's top dial, you need to choose Intelligent Auto mode and then press the dedicated video recording button on the back of the camera. Shooting video in low light with the normal Movie Mode produced very dark, mostly unusable footage.
Overall, the video quality isn't perfect. Here are head-to-head videos shot in standard movie mode with both the Lumix DMC-FZ35 and the 1080p-capable Kodak Zi8 ( ).
Video-quality test: Panasonic Lumix DMC-FZ35 (Movie mode, 720p, No Intelligent Auto)
Video-quality test: Kodak Zi8 (1080p mode)
White balance was superb, but shadowy areas in our test scene were murky and lacked definition in well-lit situations. The DMC-FZ35's clip also had more grain and less-refined detail than did footage shot with the much smaller Zi8.
Intelligent Auto isn't the only excellent tool. High Dynamic scene mode, for which you'll need a tripod and optimal lighting conditions (sunrise, unevenly lit settings, and dusk are all great options) to achieve best results, produces dramatically highlighted images that bring out shadowy details and punchy, surreal colors in the same shot. All that trickery comes at the expense of some image quality, though: At full size, photos taken in High Dynamic mode looked a bit blurry and lacked sharpness.
Here's a shot taken in High Dynamic mode at dusk in San Francisco. Although it looks like a winter scene, that's just the result of the camera doing its automated tricks.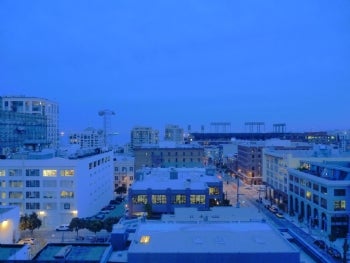 While High Dynamic Range isn't the only unusual scene mode in the DMC-FZ35, it is the most entertaining and experimentation-friendly. Among the 20 scene modes on this camera are fun functions such as a pin-hole camera simulator, a mode that applies film grain to the image, and a "Panning" mode that lets you take a shot of a fast-moving subject with a blurred background. Autofocus tracking is another nice touch, allowing you to lock in on a moving subject and keep it in focus while you're composing a shot or shooting a video.
In addition to five separate portrait modes (including one that automatically blurs the background behind your subject), the DMC-FZ35 has a face-recognition function that allows you to "register" a friend's face by taking an initial photo; theoretically you can then have the camera recognize and tag that person when you take another picture. However, I wasn't able to get this particular feature to work correctly—I registered faces, but the camera didn't seem to recognize them in future shots.
In a curious and disappointing twist, Panasonic has also made this camera significantly less intuitive to operate than the higher-priced, interchangeable-lens Lumix DMC-GF1 ( ).
The DMC-FZ35 has a lot of buttons and dials. The top hosts the 15-option mode dial, a focus-point selector button, an autofocus/manual focus toggle, the on/off switch, and shutter/zoom controls. On the back are six more buttons: a dedicated video record button, an AF/AE lock button, a mini-joystick for quick menu navigation, a button that switches between the LCD and the electronic viewfinder, a display button, and a delete button.
But wait, there's more on the back of the camera, including a four-way directional pad for on-screen menu navigation that doubles as one-touch controls for exposure compensation, flash controls, the self-timer, and custom functions. Last but not least, the camera has a shooting/playback toggle switch, too. It's good to have so many functions available via one-touch access, but until you're familiar with which buttons do what, there's a bit of a learning curve.
In the port mix, you get HDMI-out (no cable is included), DC-in, and an AV-out connector for offloading files. A lens hood and a lens cap are included with the camera. The ergonomics are superb, thanks to the textured faux-leather grip, which has a comfortable groove for the middle finger. This camera is well designed for one-handed operation (as long as you're a righty).
Macworld's buying advice
It's no video-shooting DSLR, but the Panasonic Lumix DMC-FZ35 is the best fixed-lens option I've seen yet as a hybrid camera for both stills and video. This camera is a viable replacement for a camcorder, and a top pick for anyone seeking a lightweight, megazoom camera that also shoots video.
[Tim Moynihan is a senior editor for PC World.]