PremiumSoft released a new edition to its Navicat line of database administration tools. Navicat Premium lets users manage different kinds of database servers within a single application.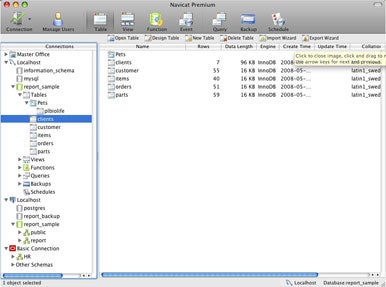 Supported database servers include MySQL, Oracle, and PostgreSQL. Navicat Premium users can transfer or migrate data between different database types or to a plain text file with designated SL formating and encoding. According to PremiumSoft, Navicat Premium also supports most of the features in MySQL, Oracle and PostgreSQL including Stored Procedure, Event, Trigger, Function, and View, among others.
The Mac OS X version of Navicat Premium runs on both OS X 10.4 and 10.5. It supports MySQL 3.21 or above, Oracle Servers 8.1 or above, and PostgreSQL Servers 7.3 or above. Prices start at $149 for the non-commercial version; the regular version costs $249.—Philip Michaels
BBEdit gets maintenance update
Bare Bones Software has released BBEdit 9.2.1, a maintenance update to its text and HTML editor for the Mac.
The update fixes eight issues reported with earlier releases, including several crash problems, bug resolution, a problem associated with Mac OS X 10.4 and a bug in the Lua programming language.—Peter Cohen
Keynote Themes 5.0 intros 10 new themes
iPresentee has released Keynote Themes 5.0—10 new themes to use with Apple's Keynote presentation software. It costs $25.
Keynote Themes 5.0 includes Azure, Greenery, Blue Wave and more—new custom themes to use for your Keynote presentations, each available in standard or HD formats. Each theme includes from 17 to 21 different master slide layouts, and an installer is included to make sure the themes end up where they need to go.—PC
Tension updates invoice creation program
Invoices 2.5 is the latest version of Tension Software's invoice creation and management software for the Mac. It helps you create customized invoices you can use to request payment from clients, and it performs automatic calculations of tax and total, lets you enter product items with your own code and price, and maintains a customer database.
New in the 2.5 release are customer label headers for tabled items inside your invoice, improved preferences, bug fixes, and a new PDF-based user guide. System requirements call for Mac OS X 10.4 or later.—PC